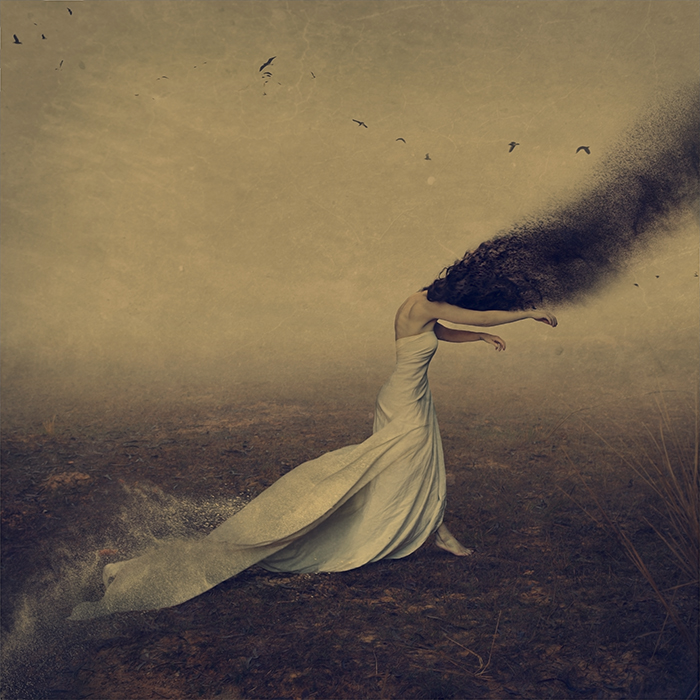 Creating: "The Shadows We Follow"
Creating: "The Shadows We Follow"
Sometimes change is necessary to feel refreshed, inspired, and motivated. It could be something as simple as changing your daily routine. For me, back in November, it was changing my hair color. I made it white/lavender so that I could feel more like a fairytale character. However, after a couple of weeks, that color faded to a bright yellow, and I had lost the inspiration that came with the change. Once my travel schedule settled down I went back to get my hair done and said only one thing: "I don't care what color my hair is, as long as it's not yellow."
We settled on a brown color, though which brown I did not know. I like bold change, and so I left the salon with dark brown hair…and I adore it. It is just the change I need to feel like a character again. When I catch a glimpse of myself in a mirror I hardly recognize myself…I am a natural blondie after all. The other day I was thinking about this change, and although it is only superficial, had me thinking about more internal matters.
Noticing the stark contrast of my pale skin and the dark hair, I began to think about how white and black are perceived through symbolism. Very often the connotation is good vs. evil, and so I decided to create an image with that theme in mind. I used my hair to my advantage in this self-portrait, allowing it to pull me in one direction while my white dress pulled in another. So often we feel this pull: good/evil, life/death, right/wrong.
To create the image I photographed it on my patio, as I so often do, using my neutral wall as a backdrop. My hair was just dark enough against that gray color to isolate it and cut it out from the background to place it on one I photographed when I was in India a week or so ago. I started this shooting process by flinging my upper body forward with my hair to capture that portion. Afterwards, I began moving the dress behind me and capturing that movement.
Mind you, when I say "dress" I really mean "bed sheet", as that is one of my favorite costumes. It is versatile, simple, and very inexpensive…my kind of costume! No matter how many dresses I buy, I always go back to different colored bed sheets as my favorite of all. There are so many possibilities with them!
Finally I knew that I needed a dust/dirt effect in my final image. I also knew that I needed to photograph something light for the dust on the dress and something dark for the dust on the hair. That was when I decided to photograph just one handful of "dust" – or in this case I used baking flour – and then invert the color when I needed to make it darker. By adding contrast to that shot, the background became darker while the flour became whiter, making it easier to isolate the flour from the background.