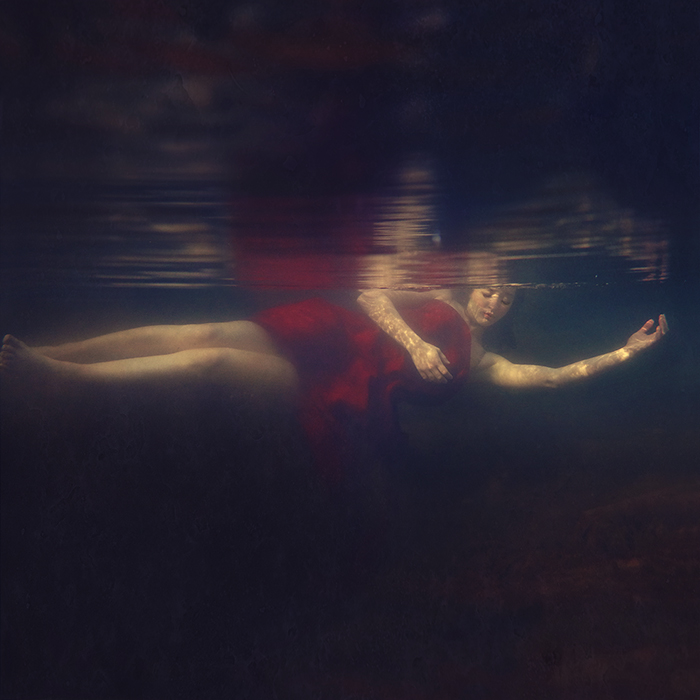 Promoting Passion Video Blog: Underwater How To
Promoting Passion Video Blog: Underwater How To
Over 3 years ago I made my first video all about underwater photography. Looking back on it I find it endearing not just because it was put together so crudely, but because I haven't changed much since then. I love putting videos together with just myself and a camera! So in that spirit I hope you enjoy this new video with updated tips on shooting underwater!
1. Shoot with a dark background.
This tip is definitely one of those that should be considered with your personal style. For example, I was shooting with someone just last week who wanted to shoot a white dress on a white background to blow out the highlights and make her look angelic. That simply isn't my style, but is still amazing nonetheless. In my experience, I find the image to be more striking when the subject is lit but the background is not, and one way to simulate this is to sink a black backdrop. Of course skin tones should be contrasting as much as possible in order to get that *pop*, so be aware of this when choosing a background. 
2. Even lighting.
When I am creating an image, I enjoy natural, even light, and so that would be my recommendation for underwater as well. But my reason for suggesting this goes further – if natural, harsh light from the sun is shining down on a subject underwater, you get reflections from the water on the skin which creates harsh highlights and shadows that can be difficult to work with. Using external lighting or photographing in indirect light can solve this potential problem.
3. Swim down!
When posing your model, give him or her a pose, have your model swim to the bottom and then have them hit the pose and start to float up. This will eliminate most confusion about what to do first because the model has a clear structure in mind: swim to the bottom, pose, naturally float up. This gives you more time to photograph the model and different options as well for angles.
4. Lens choice.
I prefer a 24 or 28mm lens when shooting underwater because of how murky the water can be. I find that anything wider distorts the subject too much, while anything tighter makes it too difficult to see underwater because of the potential murkiness.
5. Take more shots than you think you need.
The worst feeling is doing a shoot and then only later realizing that you didn't get the perfect shot because a body part wasn't quite looking elegant enough. So take more shots than you think you need, and you'll be well prepared for potential compositing later.
6. Pay attention to the hands and face!
Have you ever tried modeling underwater? If so, you can probably attest to the fact that keeping your hands looking graceful and your face like you're not underwater is extremely difficult. As a result, these are the two things you should pay attention to while shooting so that you don't have to re-shoot. The hands will naturally want to balance the subject and so they often keep moving to keep the model in place, while the face is so busy trying not to suck water up that it often looks puffed, which is what I like to call "underwater face".
7. The bubbles the bubbles the bubbles!
When shooting, specify if you want bubbles in the shot. This can be created from the model by blowing out or thrashing her body. You can also employ an assistant to create bubbles from under the water or above.
8. Avoid the murk!
If you are shooting in a murky, natural body of water, remember that you will have to take longer to shoot. When you are in place and your model is as well, hold your positions while taking test shots to see when the murkiness has subsided. When it does, ask your model to pose. You should be able to get about 1-5 good shots off before the dust comes back up and you have to wait again. Avoid locations like lakes and very choppy ocean water where the water is stagnant or moving too fast, as these spaces will be extremely murky. 
9. Wardrobe.
I often choose a contrasting color for my wardrobe underwater. Bright colors work well for me because I can always desaturate them later, yet at the same time they naturally stand out underwater where colors might get dulled down from murkiness. 
10. Bring a friend or assistant.
When shooting a model underwater, always have a helper standing by in case something goes wrong. Long dresses or heavy dresses become far less manageable when under the water because they can get tangled around the model's legs or pull her down. I like to have someone standing by to jump in and help just in case this happens. 
11. The basic courtesies.
Underwater modeling is extremely challenging, and it is likely that your model will be tired, cold, and hungry afterwards. When getting started, let him or her know that they should clearly communicate how they are feeling or if they need a break. I try to ask after every few shots how the model is doing, and always let him or her know that when that person needs out of the water, we will get out immediately. I bring along towels and sweaters to wrap the model in when we get out, and either have a hot tea ready or drive to the local cafe to get warmed up.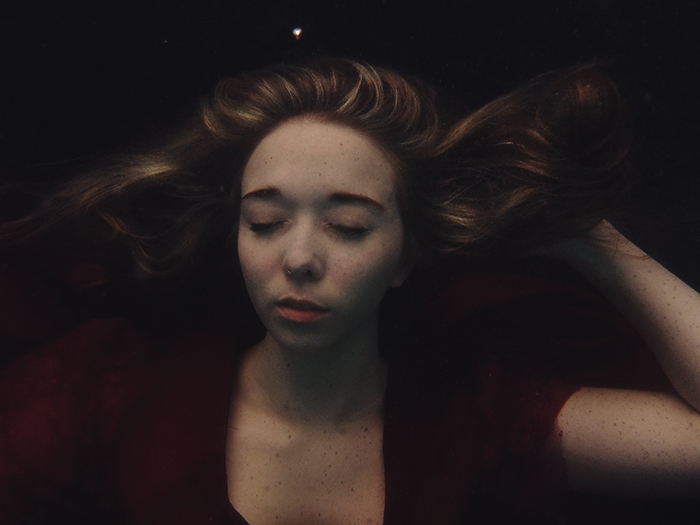 I hope that you find these tips to be helpful in some way! Underwater photography is something that I have long loved for the way that we can experience a whole new world in a photograph. Not all of these tips apply to everyone, so keep that in mind and as always, try something new and fun! I'm absolutely thrilled that I love my new little camera since it makes shooting anytime, anywhere easier and more fun for the ease of it.
This is not a sponsored post in any way – I simply did research online and purchased the camera which I thought would be the closest match to a DSLR….so far, so good!
The camera used in this video and for the resulting images is a Panasonic Lumix. Big thank you to the models: Kyna Lian for braving that hugely cold creek, and Marsha Denlinger for modeling not only for myself but also for my class at After Dark Education! Thank you to Rocio Mirelis for filming behind the scenes footage with my camera, and to Celine Michelle with Sweetlight for filming underwater with her GoPro!