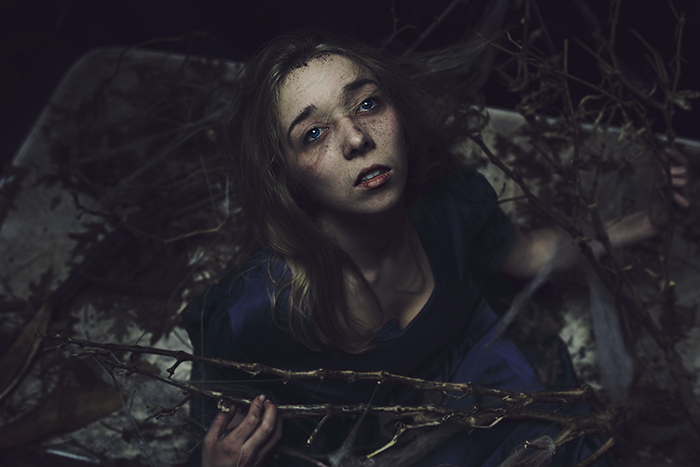 Set Design In-Studio
Set Design In-Studio
I wanted the last class I would ever teach at After Dark to be a big one, so I decided to end it with a set design class. I went out that morning with the very kind man behind Sweetlight John and gathered sticks, leaves, debris of all kinds, soil, cobweb, and a lantern.
When it came time to do the class, I nearly forgot that it was nighttime! I was envisioning everything being lit by a window. So instead of panicking with 20 minutes to spare before class, I once again nagged the Sweetlight team and asked if they could put one light with a softbox above the subject, pointing directly down. Everyone looked at me like I was nuts…which I might be, but in my mind, I wanted to simulate a moon. So I figured the best way to do that would be to put the light overhead and diffuse it.
Once the light was set the class gathered, and we began building. We started with a simple setup: dirt on the floor (thank you WHCC!), a black backdrop, and our model Marsha laying on top. I put a lantern in her hand and made it look like a forest scene with a girl who had fallen asleep under the night sky.
From there we began adding leaves, and then sticks, and then eventually a bed.
(I should definitely say thank you to the hotel for providing the bed, though I actually think they still have no idea that we covered it in dirt and sticks, so probably best to not mention it…).
My method was to build the scene up, starting with something simple and ending in a crescendo of a beautiful dream sequence – a girl dreaming in the forest at night, still sleeping in her bed. It was probably the most fun I've had teaching as far as the actual shooting goes…and to imagine, it was all in a ballroom at a hotel with one light and a black background. That is why I love photography. You can make it whatever you want, your dreams can become a reality, and you can do it with your own rules.
If you'd like to purchase this print to support the Saving Eliza charity, you can do so here!
If you had a blank space, how would you decorate it?