May 23-27, 2022
Tucson, AZ, USA
Promoting passion, creativity, and connection.
Hands on workshops & inspiring lectures
Some of the biggest creative world changers
A safe haven of community
A place to be openly weird
Kick-start your hobby into a passion & career
Learn to create through your personal vision
The power of one individual to change others through their passion is undeniable and extraordinary.
The Promoting Passion Convention brings together individuals who want to, can, and will make a difference with their passion. If you are an artist looking to expand your craft, someone seeking greater perspective, skills, or personal fulfillment, or if you are someone who wants more community…this event was created for you.
A series of hands-on workshops, lectures, creative free time, and panel discussions. The maximum number of attendees is 150 to keep the event intimate.
Connection is huge for me, and I strive to make as many partners-in-crime as possible at the convention.
Please read all details thoroughly!
I really admire our speakers, who I believe will bring beautiful, necessary, and inspirational voices to this convention. Click on these exceptional people to learn more about them.
Now included in the price of your registration is a 1-1 in-person portfolio review with Amy Parrish! Reviews (regularly priced at $150) will last 15 minutes, and you will have the opportunity to upload your work ahead of time for a more in-depth review. More information about the reviews will be shared closer to the date, including how to upload your work and how to schedule your meeting at PPC.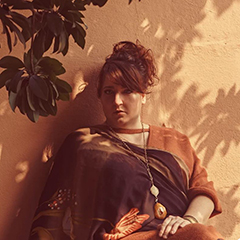 Amy Parrish (b. 1981) is an American artist and writer raised on more than 200 acres of Appalachian foothills along the Ohio-West Virginia border; now based in Shantiniketan, West Bengal, India. Home, nature and a sense of place recur in both words and images.
Amy's work has been internationally exhibited, published and awarded. Notable highlights include an NPR feature, the Julia Margaret Cameron Award, Huntington Museum of Art, and studio practice filmed for two seasons of Photovision. After a 10-year career in portraiture that led her around the country teaching other professionals in the industry, Amy now limits commissions to a few weeks each year.
Her writing can be found on a variety of platforms, including LensCulture, where she has also reviewed several hundred portfolios from contemporary photographers across the globe.
Check-in is Monday, May 23rd from 4:00PM – 6:00PM.
Dinner is served at 6:30PM, followed by a Meet & Greet at 8:00PM.
TIME
MAY 24
MAY 25
MAY 26
MAY 27
7:30AM-8:30AM
Breakfast
Breakfast
Breakfast
Breakfast
8:30AM-9:15AM
Orientation
Optional
Yoga (30m)
Optional
Yoga (30m)
Check-out
(till 11AM)
9:30AM-12:00PM
Workshops:
Felix Hernandez
Megan Allen
Robert Cornelius
Workshops:
Felicia Chang
Megan Allen
Robert Cornelius
Workshops:
Felix Hernandez
Brooke Shaden
Danielle Da Silva
Eric Jones
12:15PM-1:15PM
Lunch
Lunch
Lunch
1:30PM-2:30PM
Roundtables
Story Sessions:
TBA
Lecture:
Danielle Da Silva
2:45PM-3:45PM
Lecture:
Felicia Chang
Lecture:
TBA
Lecture:
Eric Jones
4:00PM-5:30PM
Creative
Collaboration
Art Expo
Creative
Collaboration
6:00PM-7:00PM
Dinner
Dinner
Dinner
7:30PM-8:30PM
Panel
Discussion:
TBA
Panel
Discussion:
Mary Virginia Swanson
Closing
Ceremony
*Subject to change.
Story Sessions applications will open soon! What are Story Sessions? Each year we choose 3 participants to give a 15-minute presentation of their choosing to inspire the audience. Anyone registered for PPC can apply. The three chosen speakers will receive $500 + a recording of their talk.
Click on the information packet
above for more details!
Register for the Promoting Passion Convention through my website:
Promoting Passion Convention
in Tucson, AZ on May 23-27, 2022.
Event fee does not include room & board,
which should be booked through Tanque Verde Ranch.
Price: $425
Registrants will receive a welcome email with instructions on joining our Facebook group where you can meet other attendees and coordinate roommates.
The convention will be hosted at Tanque Verde Ranch, an oasis in the desert.
Attendees are strongly encouraged to stay on-site as the venue is remote and the experience is made richer by staying as a group. You must contact Mary Ellen McBee at (520) 731-5568 by phone to book your room. If booking a double, triple, or quad room, please know your roommates in advance of booking.
The closest airport is the Tucson International Airport (TUS), which is a 30-40 minute drive from the venue. The venue has shuttles available – please inquire upon booking your room. The Phoenix International Airport (PHX) is a 2 hour and 20 minute drive from the venue and a car must be rented if flying in there.
The resort offers multiple room types with one to four beds per unit (including sofa beds) available on a first-come, first-serve basis. There are only 10 rooms available for single occupancy. Single occupancy rooms are now sold out. All other rooms must have one person per bed in the room. After registering and joining the Facebook group, you can use the roommate spreadsheet to find a roommate, or have the Mary Ellen assign roommates to you.
Each room has a single occupancy base rate of $255.00/night +12.05% Tax
Each additional person in a room adds $85/night + 12.05% Tax
For example, rounding up with tax included:
Room with 1 person = $286/night = $286/person/night Almost Sold Out
Room with 2 people = $381/night = $191/person/night
Room with 3 people = $477/night = $159/person/night
Room with 4 people = $572/night = $143/person/night
Inquire about airport shuttles and advise the staff on dietary restrictions when booking your room.
*It is highly encouraged to stay on site as the venue is remote.
Check-in between 4-6pm on May 23rd
Check-out before 11am on May 27th
COVID-19 PRECAUTIONS: Participants should be prepared to show proof of vaccination or a negative COVID-19 test within 3 days of the event.
Policies may change based on CDC recommendations.
Please contact Callandra, our PPC event manager, if you have any questions.
If you would like to support the PPC 2022 scholarship fund to help someone make it to the event, you can donate here!