Fourth Wall: Unformed
Fourth Wall: Unformed
From beginning to end, this shoot with molasses was hysterical, fun and unforgettable. There is something very satisfying about pouring sticky syrup all over someone. You feel like a child and you giggle uncontrollably and it isn't even harmful, so it is fun all around!
This image started when I was trying to think of a new way to portray rebirth. It is a theme I deal with often and that continuously delights me. The idea of someone being reborn, like a phoenix, is motivating and inspiring to me personally. Not to mention the visual of the phoenix bursting into ash is forever etched in my mind as one of the more beautiful sights my imagination has built.
I wanted to create a girl coming out of darkness, yet also being reborn from that darkness. I started thinking about what element I could put in the room with her. One thought was to edit a hole in the floor for her to be coming out of, and I created that image as well, but ended up feeling like Photoshop wasn't something that should be obviously featured in this particular series. An upcoming picture that you will see was heavily edited, but hopefully not in such an obvious way, hence the distinction.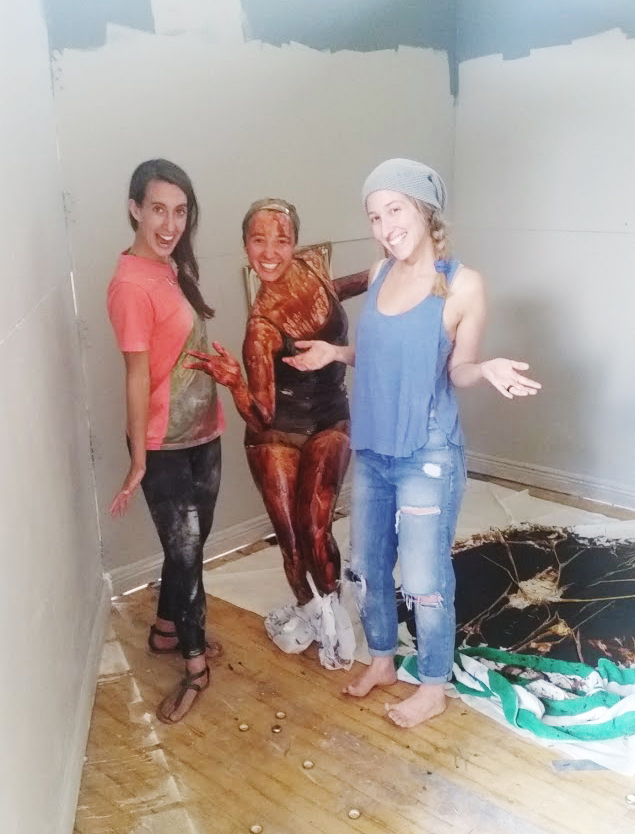 When I realized the hole in the floor wouldn't work, I went back to thinking about texture and what textures were missing from the series up to that point. That was when I started thinking about something slick and slippery. At first I wanted to use oil, but with that being an impractical choice, I settled on syrup. Syrup, though, was too thin and light in color to work for what I wanted, so I chose molasses: thicker and darker.
I laid down a cream colored plastic shower curtain on the floor to protect the floor but also create contrast between the dark molasses and the light floor.
The first pose I had chosen for this image turned out to be too sexual in practice. It didn't have the right feral feeling to it that I had wanted. So, I scrapped that pose and while my model was in the molasses we played a little bit. I instructed her to curl her body up as tight as she could while still sitting up. I wanted a twisted look to her body and told her to play within those confines to twist and contort. It was a challenge as it was slippery down there, but she did an amazing job of giving me several options to play with.
I used a swimmers cap on her head to create the bald effect, which worked great and was thick and tight enough to withstand the slick molasses. In post I edited minimally to enhance the highlights on her body and hands especially.
I hope you enjoy this new series which is on display and represented by the JoAnne Artman Gallery until February 18th. It is showing in New York City (Chelsea).
Very limited editions. Each print is offered at 42×42 inches with an edition of 2, and 8×8 inches with an edition of 3.
You may contact the gallery for purchase requests. Each print has been proofed, signed, and numbered by me, and comes with a certificate of authenticity.
—
Photographed with a Sony a7ii and a 25mm Zeiss lens.
Model: Kyna Lian
Assistance: Kelly McGrady