Holding On to Broken Pieces
Holding On to Broken Pieces
All artist's encounter struggles as they move along their journey. One of my most prominent hiccups has been a battle between what comes easy and what scares me. I nearly always end up choosing what scares me, though like anyone it can take some time to get there. Last week I was trekking through an abandoned auditorium, exploring layers upon layers of peeling paint in old bathrooms and hallways. It was incredible, the amount of history and story hidden in the crevices. I was inspired and uninspired all at once. I loved what I was seeing, but I had no desire to pull my camera out. The problem was in the expectation.
To me, expectation is the death of creativity. That won't be the last time I make that statement. Whenever I try to anticipate how I will react to something, I immediately lose interest. The goal is not to figure myself out, it is to surprise myself. That is why, when I got to that location, I didn't want to take any pictures. I anticipated what I would find and I was bored with fulfilling my expectation.
Instead, after thirty minutes of wandering around, I found myself in the simplest part of the building. I had a vision there, something that briefly popped into my head and then fled. I sat with the idea for a minute, thinking about the complexities of how to bring it to life, and knowing immediately that even if it didn't work out it was still worth shooting. I called my friends in, asked them to kindly strip down to the skivvies, and posed them. We laughed together until we nearly cried, feeling the joy of the spontaneity and the sense of adventure that comes with doing something unusual.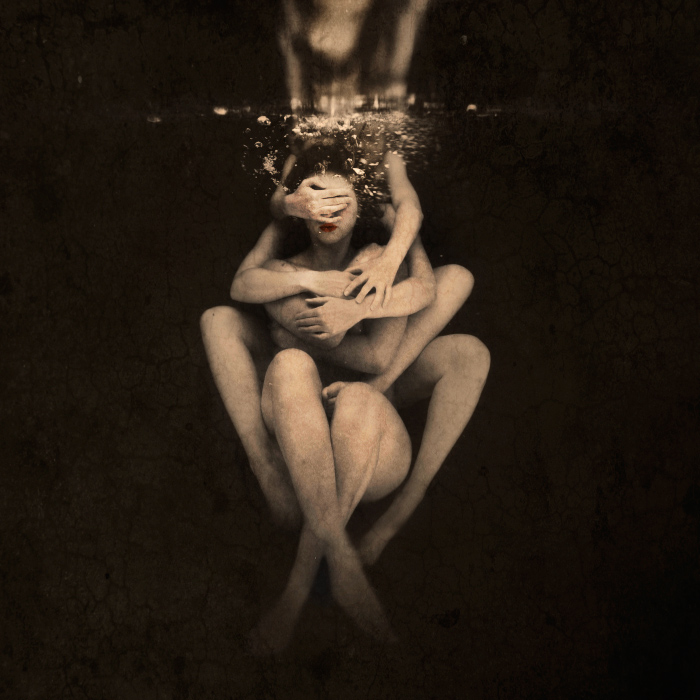 For a while I was caught up in not being so creepy and outwardly dark since I knew that it bothered some people. Suffice it to say I've thrown that fear out the window. I love being wholly myself. Our goal as artists should not be to make everyone understand us. It should be to try to understand ourselves, and if others jump on our bandwagon in the process, more power to us. I no longer seek to please, I seek to understand my uniqueness. I ask myself why and I always find an answer. I do my artistic homework.
This image means a lot to me. It is was taken at a pivotal moment of choosing to ground myself in my weirdness. It reflects a deeply personal place of feeling pulled at and controlled, and wanting to fight against that. It is raw, skin showing and nothing to protect that vulnerability. It can mean anything to anyone – even if it means nothing – and that is the job of the modern artist: to be okay with our art fulfilling only a part of ourselves. When we release it into the world it becomes part of the world.
—
"Holding On to Broken Pieces", modeled by my dear friends (who are more like family): Mia Hutchinson, Lieke Anna, Jen Brook, who all lent their various limbs (and face, thank you Mia!) to this image. Second image revisited underwater.