How to Deal With Rejection
How to Deal With Rejection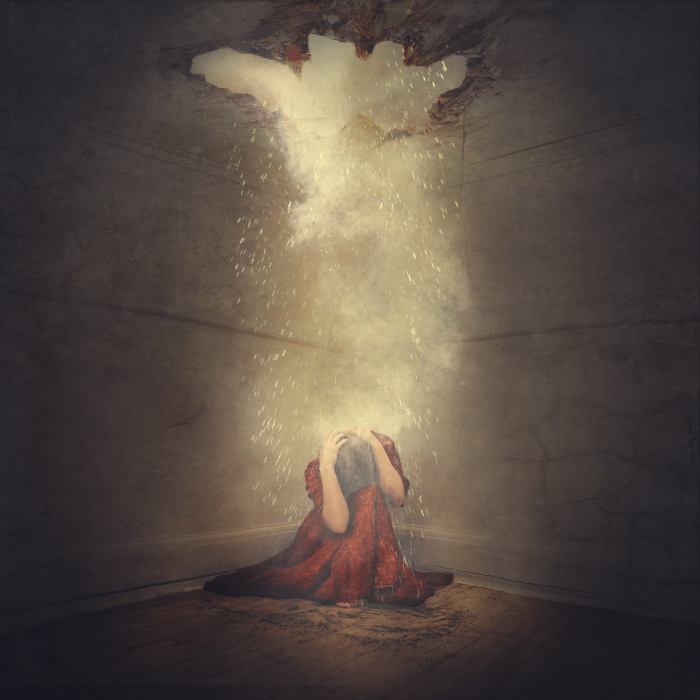 Read to end for a giveaway.
In the wake of the Sony Alpha Female grants being announced, a lot of people have written either to me or generally online about rejection. There are a lot of people hurting right now. It seemed like a good time to talk about rejection and share some of my experiences with it.
Here are my top 5 lessons about rejection, and some of my story.
I've had a long life of rejection. We all have. That's life.
It started for me in school at a young age. I wasn't a good traditional learner. I failed a lot of classes. I got bad grades. I tried harder than absolutely anyone I knew, and I still couldn't keep up. I learned very young that I was going to fail a lot.
I couldn't get into great (or even very good) colleges, I couldn't pass tests, and (get this…) I even got a doctor note in college saying I didn't have to take any tests because my memory was so bad. Seriously, that happened!
And then I became an artist, so I never got rejected again!
NOT.
That's when I really learned what rejection was, because suddenly it wasn't coming from people and places I had to interact with, it was coming from places I desperately wanted to fit into but didn't.
---
1. Let's BIG PICTURE this deal.
First recognize that we are all in different phases: of our life, our maturity, our art, our self-discovery, our circumstances…everything. We are different ages, have been creating for different amounts of time, etc. I started submitting to contests and galleries and publications when I had been shooting for only 3 months. I was 22. I got rejection early on, and it ATE AWAY AT ME. I couldn't sleep, would often cry or pout about it, and I felt like I couldn't function. But you know what? I was a baby in my career! I had literally picked up a camera only 3 months prior!
Now that I've been submitting to things like this for 9.5 years, I've gotten better. Let me share how.
I realized that the big picture matters. If I don't win something now, I recognize that another opportunity will come, another time that is more ripe for me. Another day, another year, another moment. This is just a drop in the hat. Let it pass like it should, without bother, but with acknowledgment.
---
2. Contests are SUBJECTIVE.
You may be in a very dark hole figuring out all of the reasons why you weren't selected. Let me say this: you may never figure that out. And there may be no good reason. In this particular contest there were over 6,000 submissions. Judges in most contests have a ton of entries to go through. And from an insider perspective, a lot of them start to look the same. That is no fault of yours. It isn't really a fault at all. It is just the nature of contests. You can only answer the same questions in so many ways.
But more to the point, the judges are real, live human beings. And based on who the judges are, certain entries will get more weight and others won't. That is the nature of a contest. Someone has to judge it, and that person has to use their own sensibilities in the judging process.
You won't match well with every juror. You won't catch the eye of every person no matter how much you should.
Here is a great example. I judged a contest once with a brilliant person. We sat down to judge, and every time a fine art image would pop up, (and definitely anything remotely in my style), this person would dismiss it without really looking for the merit in it. It was frustrating, but also founded. This person was a judge, and if they didn't like something, that was up to them no matter how "unfair" it may seem.
Just today I saw a contest I wanted to submit to, but lo and behold, that person was the judge for the contest! Needless to say, I passed. I know my work isn't a fit for that juror.
I've had my work rejected from UMPTEEN (official term) contests. And there are times where I just cannot believe it. I am shocked. I was certain I'd get in. The only thing it can be chalked up to is a disagreement of taste.
One of my best friends taught me this saying in latin:
"De gustibus non est disputandum,"
"In matters of taste there can be no dispute."
That sums it up perfectly.
---
3. Learn from your peers.
There are ways to get better at submitting to contests. There are so many reasons why an entry is dismissed from a contest. The most common one is the one I mentioned in #2. Taste cannot be predicted, and there is always a human juror at the other end. But then there's real learning to be done. Ask yourself these questions:
What did the winners do that I didn't, if anything?
Was my submission in alignment with the company or organization I submitted to?
Was my submission professional in terms of writing style, grammar, formatting?
Were my images unique and would they stand out of a crowd? Were they polished and professional?
Was my video in focus and did I present myself in an authentic way?
And of course, there are tons more questions you could ask. Most beneficially, you could get a focus group together and share submissions. Give feedback and get feedback about what they like and don't like.
At the end of that process, if you still feel like you can't figure out what went wrong (which I admit many, many will not be able to get a clear grasp), refer back to #2 again. It all goes back to that. And somehow, I find that really reassuring, if not infuriating. It's the nature of the beast.
---
4. Put yourself in their shoes.
Imagine YOU are judging a contest. Imagine you have to look at 1,000 entries in one week. Aside from your brain going numb from the number of applications you have to read thoroughly, what else would you consider?
Did they follow the rules? If not, it's probably out immediately.
Does this person stand out in some way? If not, it's probably out.
Does this person present an opportunity to make you/your organization look interesting?
Is this person in alignment with your values?
What is this person's probability for future success?
And then, honing in on a winner:
What message is this person sending?
Does their imagery represent something new or exciting?
I can honestly say that my work doesn't tick all those boxes for everyone, and not even for most people. I can recognize that some (probably a lot) of my work is, in some way, generic and overdone. I can recognize that my brand doesn't work well with a lot of other brands. I know that my message doesn't always click with people. I understand that my work is polarizing, and it really doesn't connect with people.
It is important that anyone submitting to contests recognize this about their work. That is NOT to say that your work isn't unique, beautiful, interesting, worthy. It is to say that not every juror can choose every submission, so they have to choose what works best with their mission.
Put yourself in their position. It becomes easier to understand the difficulty of the selection process when you consider all of those criteria. How would you choose?
---
5. The hard part is over.
Submitting your work to anything is the hard part in and of itself. Except now, you have an extensive application already prepared for submission to other contests. So, after you've put the time in to critique your submission, get your booty in motion and get out there! Learn how to constantly revise and edit your images and writing, but most importantly, your message. Learn how to adapt YOURSELF to the contest at hand. Be smart about your submissions, but also be bold.
I recommend taking the hard work you've put in and the new skills you've learned by submitting it to other contests/grants/etc.
A similar position I was in: When I had my first exhibition I printed tons of images and then none of them sold. So, I had 15 prints sitting in my house and they had no where to go. I could have stopped exhibiting, but instead I submitted those prints to tons of shows that year and got to hang them in an additional 12 shows in 2010. That experience, quite literally, launched my career as a fine art photographer.
So take your hard won application materials and put them to work for you.
---
I want to mention, in an attempt to curb the emails I'm getting, that I didn't get to judge the Sony Alpha Female contest until the very, very, very end. I was sent the final 15 contestants and still, my vote in that final round was counted against everyone else who was voting in the final round. It is extremely likely I won't be able to tell you why you weren't chosen because I wasn't judging the vast majority of the entries.
That said…
I am opening up FIVE spaces to have
your entries critiqued in a group session.
I'll do my best to share aspects of your submission that could have been beefed up so that in the future you'll have a better chance of making it in.
Leave a comment below and let me know if you'd like your Sony Alpha Female application critiqued, and I'll choose 5 people at random to join in.
I wish I could open it up further, but alas, time is short as I submit my own work to a myriad of different contests! 😀
With kindness and a push of inspiration to get yourself out there,
Brooke