Make Motivation Your Superpower
Make Motivation Your Superpower
Read to the end for today's free giveaway
+ to read my practical tips for an art business!
This is a long one but it sure is juicy!
Folks, I need to admit something to you. I'm not terribly organized.
However, after I started sharing about my work days (on Instagram Stories) and how much I get done, I started getting messages (like, a lot of them) about how I stay organized enough to get all of those tasks crossed off my list. It became too overwhelming to write to each DM I got, so I told everyone I'd make a blog post about it. Here we go!
I say that I'm not organized because in many ways, I'm not. I'm sort of like a confused type A personality. I like things in a specific way, I like to know that my life is in order, but ask me to keep my life in order, and well…I just can't. Or, rather, I haven't learned how…YET.
I will be the first to admit that I spend about 20 unnecessary minutes everyday doing something that I should have had organized long ago.
And I work on this, slowly, and not fast enough to make my family believe I'm working on it. I am also highly productive. I always have been and don't have ambitions to slow down in my productivity. Shifting focus, yes, but not becoming complacent.
All of that to say, the two words – organization and motivation – are not the same thing. They come from different universes and sometimes they commingle. Let's take a look at some simple practices we can all apply to become more proficient in the art of getting stuff done.
PRIORITIES. My decisive nature and enormous passion collide to make it easy for me to choose priorities and let them shine. Be honest with yourself about what you want, how you will get it, and then learn to follow through (yes, I realize that is the whole point of this post – FOLLOW THROUGH – so read on, comrades!). More on this topic in an earlier post.


Write your to-do list THE DAY BEFORE. This changed the game for me. Productivity increased, I was more goal-focused, and I felt better every time I crossed something off my list.
The 30-MINUTE swap. Take a moment to look at your normal day schedule. Can you find 30 minutes of time that you spend doing something that doesn't serve your goals? It could be TV, Internet, meals that could be prepared more efficiently, naps, etc. Once you've located those 30 minutes, swap them out for extreme productivity time. Spend 30 minutes daily that you have actively traded to hunker down on your goals and GIT THEM DONE.My personal kryptonite is the Internet (whose isn't though, really). In order to combat the time I spend, I put a website blocker on my browser so that I can only spend 15 minutes a day on Facebook. That means I speed up the time I spend working on social media, and when I do open Facebook, it isn't to chat with friends. I go straight to my business page, I post, I reply to comments, and I get the heck out of there.I use the browser add-on StayFocused.
Figure out YOUR productivity hours. My husband is a night owl. Like, up until 5am coding his heart out. My best hours are from 6am-11am. I know this about myself, so I utilize those hours. Of course, your schedule might require you to be flexible with this, but first, identify YOUR hours. When do you most easily enter a state of flow? When do you feel your best? When are you more productive? And then the opposite – at what hours are you good for nothing (well, that's a bit harsh – when is your energy low)?Once you know those hours, intend to get your to-do list mostly finished inside of those hours each day. If I didn't prioritize my goals/time in this way, I wouldn't be able to get half of the things finished that I do each day.

My schedule is this:

05:45 Wake up
06:00 Emails
06:30 Social Media
07:30 Misc Business/Computer tasks
09:00 Breakfast/Reading
09:30 Creative Work
11:00 Reading Break
11:30 Yoga
12:00 Lunch/Reading
12:30 Writing
03:30 Hiking
05:30 Dinner
06:30 Family timeIt may surprise you to see that my work day is generally only 8 hours. When I travel, this schedule and my work hours are out the window. But when I'm home, I've got an awesome routine.I work fast, efficiently, with a clear mind and I really get things done. Find your opening and try to take advantage of it!
Surround yourself with what UPLIFTS you. Sometimes changing our surroundings takes time. Let me share some of my choices with you for context. I grew up in Pennsylvania, went to college in Philly, moved to Los Angeles…all knowing that I hate cities. I thought there would be opportunity there, that it was necessary…some of this is practical, and some of it is sheep-talk (in other words, listening to what other people said because it seemed easier than forging my own path). I made the choice the move away to a tiny town in the mountains and I've never looked back. I left behind what I knew for a place where we knew no one and I LOVE IT. Why did I do it?

– I know I hate cities, so why stay in one?
– I wanted to be in a place where no one knew me at all so that there was no expectation.
– I wanted sunshine. A lot of sunshine. I moved to a very sunny place.
– I wanted nature all around me. I've got mountains, creeks, forests, desert. Everything.
– I wanted a health conscious place where I could find yummy vegan treats. Check!
– Mostly, though, I wanted a place that I felt joyous to wake up to every day. And I do. So much.

I know what at least half of you are thinking. But, I can't do that, because I have ________ (insert family, job, responsibility, etc.). I get it, I truly do. And some would say I made the selfish choice, moving away from everyone I know and love. But you know what? Selfish choices aren't always as selfish as they seem.We punish people so harshly for desiring a better life. For creating a better life. It is, I believe, those people who create the life they want to live that set an example for others who believe they could do the same (and especially for those who never considered it). Let the life you create be an example to your family, to your children, to your friends that you can choose the life you want to live.That puts practicality aside, of course. This might not be an option for you right now, or not even in a couple of years, but you can work toward it.And if that isn't an option right now, let's talk about smaller pieces of joy you can put into your life. Surround yourself with plants, or art on your walls that you love, or frequent outings to your favorite places.The more joy I feel when I wake up, the more productive I am. Simple as that.
TREATS! What kind of productivity list would this be without mentioning treats? I am obsessive about rewarding myself. I seek a pat on the back any chance I get. In fact, my husband likes to say that I pat myself on the back because I don't count on anyone else to do it for me. Fist bump! How do I reward myself? In three simple ways:

– The SMALL reward: I cross something off of my to-do list. I equate that to-do list with my worth for the day. That sounds massively wrong, I know. And I don't mean it in a major way, but listen…I work for myself. I have no boss, no one telling me if I'm doing this right, if I'm doing a good job, etc. So, when I finish a task (whether it was done right or not), that gets tallied into my worth for the day. I wish I could find a better word, but it's not coming. Suggestions below, please!

– The MEDIUM reward: FOOD. Let's face it, I love food. I love it SO, so much. My rewards are usually health based because I try not to eat added sugars or processed foods. But they are still so good! Here are my big food rewards: Avocado toast on THIS BREAD (I make a batch every 2 weeks or so), chocolate nice cream (or a chocolate smoothie – same recipe, more cashew milk), or applesauce.

– The LARGE reward: TV. Some days I'm just over it. Over productivity, over my routine. So, I plop down on the couch and I watch Merlin or Doctor Who, or some other silly sci-fi show, or even a travel show.
NOTHING is better put off until later. In our deepest of hearts, we know this to be true. That is why I don't procrastinate. That was a lie. I do procrastinate sometimes, but rarely, and I never enjoy myself when I do. I've become much better at doing things right when I see they need to be done. From emails every morning to categorizing receipts for taxes, dishes when I finish eating (sidenote: I hate dishwashers) and cleaning when I finish a shoot.

Make your life a LIFE OF NOW. When you see something amiss, do something about it. I feel good when I do this because I feel proud and productive, and it keeps me physically organized as well as mentally organized. If I know that my possessions and tasks are taken care of, I have more space for creativity.
Depression, Anxiety, and downright sadness. This is not a funny point or one that I enjoy pointing out, but I must. I wake up some days and I am not okay. I wake up some days and I feel like my life is a mess, like it's not worth working for, like everything I do is crap, like no one cares, etc. I'm willing to bet that everyone reading this has had some semblance of those feelings. It is serious and I do not suggest you SOLDIER THROUGH IT. I do NOT suggest that. There are times and places where you must – I just taught a 2-day workshop immediately after getting off a plane from Greece with the flu. Trust me, a large part of me wanted to call it and stay in bed all day, but that was not the time for self-care.
(It turned out to be a time for losing my voice while piling into a bed with 40 people. And it was awesome…No explanation necessary. If you were there in Maine, you know.)

Instead, consider some softness toward yourself. When I wake up in those moods, I sometimes try to push through it and get things done. And you know what? I don't do good work. I just don't. Listen to your heart, mind and body. When it is upset, tend to it. A day spent caring for yourself is preparation for a much better week ahead.
Try the BUDDY SYSTEM. It is much easier, in my opinion, to stay productive when you are held accountable. If you are not a naturally self-starting individual, set up a little team. If you don't know anyone who fits the role, COMMENT BELOW AND MAKE FRIENDS! Do you have any idea how amazing this community is?! Gosh golly. It seriously is.What I suggest is this: Set a time to meet twice a month on video chat. Talk about these 4 points:

1. What did you accomplish?
2. What are you proud of?
3. What do you think you could have done better?
4. What are your new goals for the next 2 weeks?I suggest making your group anywhere from 2-5 people so that the calls don't last too long.
Figure out what motivates YOU. I said in the first topic that we would talk about FOLLOW THROUGH. All I can do is tell you what motivates me, what keeps me moving forward. I can also tell you what stops me from moving forward: Fear of wasting money, fear of wasting time, fear of something being difficult. Let me tell you something that on bad days I have a hard time believe, but I know to be true: Time spent getting closer to your dreams and goals is never wasted. Live within your means, yes, but mean to live beyond that. Work for it.I told you about my motivations – finishing a to do list, food, hiking…but those are superficial. What truly motivates me is knowing that I am paving myself a glorious road to my dreams.It boils down to growing your confidence. Anyone, ANYONE..can you hear me…ANYONE can do this. Anyone can decide, at any time in their life, that they are worthy of pursuing goals to get to dreams. ANYONE can change the course of humanity, can make a dent in society, can weave together a better life. Let that ANYONE be YOU. Let yourself sink into your dreams.
T
h
e G
i
v

e
a

w
a
y
!
Well my friends, here we are – the ending. And I want to host another giveaway. This time I'll be giving away 5 spaces for a group chat. THE BUDDY SYSTEM, hey! Comment below your thoughts on this topic and tell me if you're interested in being chosen to participate in a Motivation/Accountability Call.
The call will be: 1 hour, 5 participants + me, and we'll continue the discussion about productivity, business, creativity, and I'll be there to help each of you move forward with your big goals. 
What motivates you?
What percentage of the time do you feel productive?
When are your most productive hours?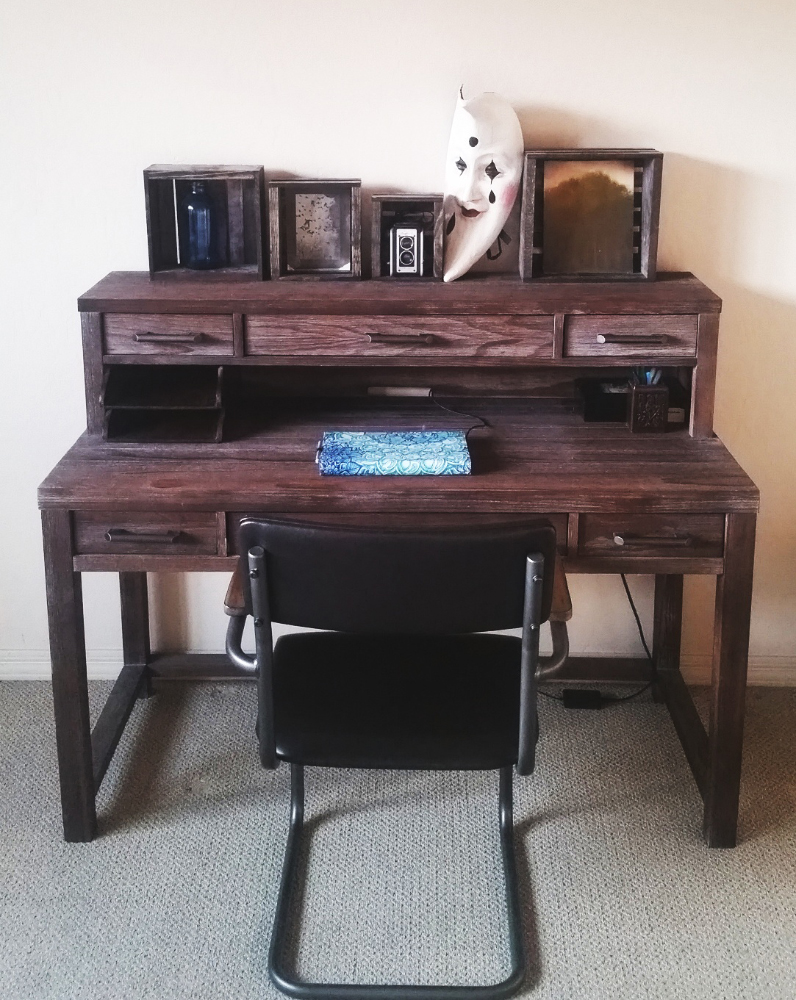 P.S. This is my new desk setup. I had two desks from when I had an assistant and it never really got used. It just sat there gathering dust. So, I made a step toward my dreams and I moved the desk into my bedroom, which is too big and empty, so that I have a designated writing space. It feels so good to make this change, not only symbolically of my continued commitment to my writing craft, but physically.
P.P.S. Here is a list of ways that I organize my business. I hope this is helpful to any other artists out there!
I use an Excel spreadsheet in Google Drive to keep track of prints that I create. I add it to the list no matter if I'm keeping it at my house, sending to a gallery, a charity event, or sending to a client. I keep the following information in that spreadsheet: title, size, edition number, paper type, sold or unsold, who has it, and any additional notes I may want to take.
I do the same thing for licensed images! Except for licensing, I write the following information: title, type of project (book, album, etc.), who licensed it, exclusivity, price they paid (this varies based on many variables unlike print sales), date/contract length.
Yet another Excel spreadsheet! I do my taxes on a monthly basis, exporting my PayPal, credit card and debit card statements. I then record the following on each line: receipt type (physical vs online), type of cost (based on US tax categories), and what specifically that cost was for (photo shoot, print sale, etc.).
I keep a filing cabinet for all of my paper statements and contracts.
I keep a folder on my computer called "Stock" where I have every type of stock image separated into their own folders, like "birds", "water", "textures", "smoke", etc.
I have contract templates for licensed image contracts, gallery contracts, model contracts, certificates of authenticity, invoices, and more. This means I can always use a pre-written document so I'm not starting from scratch.
I use information packets to send to anyone inquiring about prints, events, etc. They are 1-2 page PDF documents that explain my rates, my topics – anything relevant that they might want to know presented in a beautiful way that they can easily reference anytime.
Email templates! I get asked a lot of the same questions, and while it pains me not to answer every email with a long heartfelt reply, there are some emails that I can shorthand. A good example is that I get asked for interviews by students a couple of times daily and I couldn't possibly do them all, so I have a template that I can send that gives them links to previous interviews I've done publicly.
This one is obvious by now, but I structure my day very carefully! My magical to do lists! I use the "Tasks" feature in Google Mail to make to do lists in my email browser, but I tend to prefer physical lists. I make them as I finish my work day for the follow day. Like I said, GAME CHANGER.
I photograph things that are of importance to me. For example, if I'm fortunate enough to be featured in a magazine, I photograph it. Chances are I don't have space to keep all that content physically, so I keep digital records.
I color code my costumes. Sounds silly? Let me convince you. I have about 50 costumes hanging in my garage. We built a rack just for them! I ABHOR hanging them up. I think I might be allergic. However, when I see my dresses hanging in a rainbow looking so fluffy, it makes me feel a little more accomplished. (I color-code my personal wardrobe as well).
I charge my camera batteries immediately when I finish a photo shoot so I'm never low on battery power.
I use a password scheme. I use the same root word for all of the websites I access for my business and just change the last few letters or numbers based on the website itself. Here is an example (that doesn't follow my scheme at all, so let's not try that…): Root word – Waterm3l0n  | Ending – Fac  This would be a great one for Facebook, as the password would be your root word, Waterm3l0n + your ending Fac (the first 3 letters of the website you're on) = Waterm3l0nFac. Keep your root word, change the last 3 letters per website when you sign up. You can make up your own scheme! You'll never forget a password again. You're welcome.
I hope these quick tips help your business!