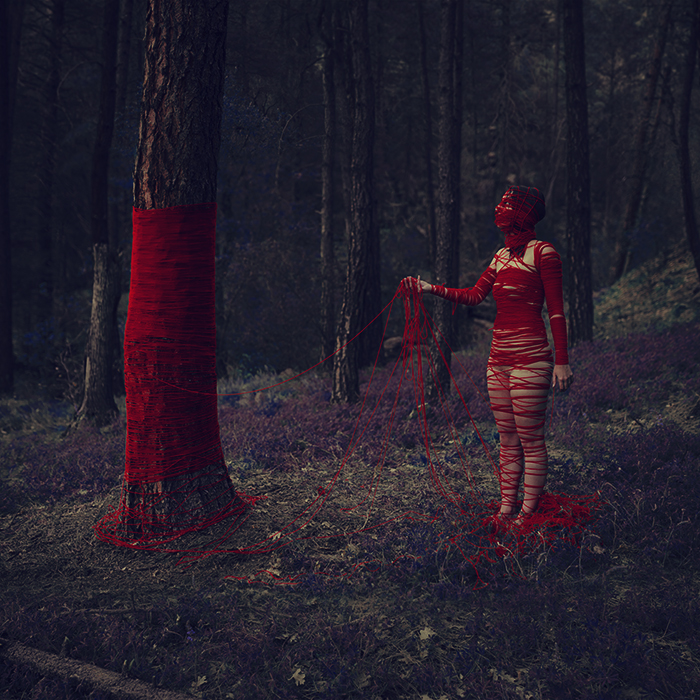 Promoting Passion Video Blog: Create No Matter What
Promoting Passion Video Blog: Create No Matter What
"Don't let what you don't have stop you from what you could create."
How often are we plagued with the repetitive thought that we cannot create unless we have something more to create with. A better camera, a new tripod, that awesome speed-light, or just a bigger budget entirely? There are amazing photographers out there who are able to spend a lot of cash for every photo they create, and that is a really wonderful thing to have at your disposal. I am not one of those artists, and to be honest, I get a lot of pleasure from that fact.
One of the things that inspires me more than anything is creating from nothing. I love to give myself a strict budget and see what I can do within those confines. Case in point, this picture was less than $10 total (In case you were wondering how much yarn you'll need to cover a tree and a human for a pretty creepy photo shoot). Sometimes I challenge myself to shoot inside my house (I'll be sharing that picture later this week!) or to use a household object as a prop. Self-portraiture is a perfect example of how you can shoot on the cheap, assuming you don't feel the need to pay yourself and exorbitant amount for modeling. >..<
I still have moments where I feel that my work could be better (re: more personally fulfilling) if I had a grand location or prop or dress, but those instances are few and far between. And when I do have that craving, I get a bunch of photographers together to pay for the scene so we can all benefit and all afford it…because what better way is there to spend your time as a creative than geeking out with other creatives about that AMAZING ABANDONED CHURCH or that one of a kind carousel horse, or or or… you get the picture.
Never let your budget or access to locations and props hold you back. There is always something to be done with your unique imagination and the world you have before your eyes. There is always magic to be created.
Share with me your images created on a budget. Have you used really inexpensive props to create an image, or perhaps an unlikely location? Let's inspire each other with the creative thinking that a tiny budget requires. Our images are our imaginations, and with that, anything is possible.
For these images I was smitten not only with the inspiration of creating something from nothing, but also by the concept behind it. Life giving life, or perhaps life taking life…whichever way you choose to see it. Red is such a powerful color because it can symbolize power, life, death, blood, etc. It is truly one of those emotional symbols in an image that makes me feel something instantly. A girl giving a tree her life-blood, or both of them sharing. Life giving life. Life taking life. Life-blood.