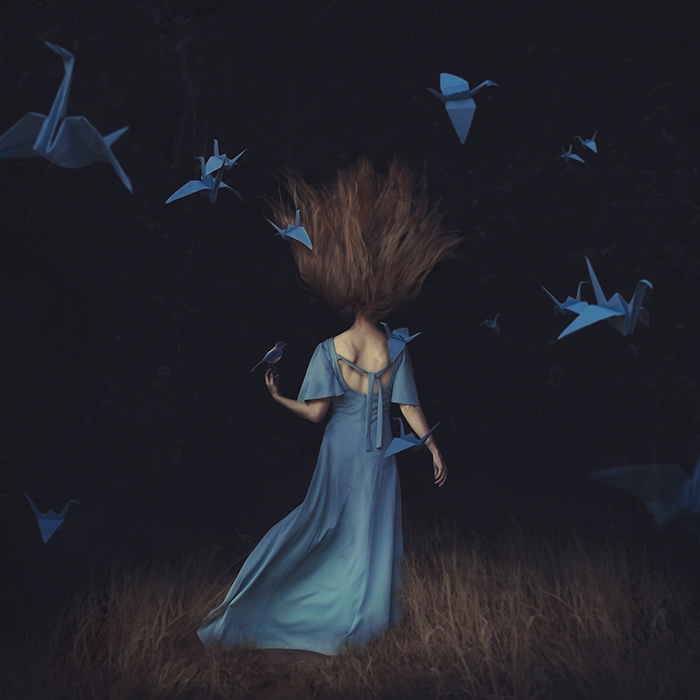 Promoting Passion Video: Free Your Imagination
Promoting Passion Video: Free Your Imagination
One morning last week I was sitting outside as the sun was rising. A bluejay followed me to where I was sitting and perched in a tree close by. We looked at each other for a long while until he flew off. A minute later he returned, this time with 2 friends. They sat all around me that morning and I felt so at peace, feeling accepted by nature and the beauty within.
I took that inspiration, and one of the birds that I photographed that morning, into a story idea. I felt, so much that morning, like my imagination was being freed. I felt as though those birds symbolized so much, and I wanted to put that into a photograph. I went to work creating this picture with origami birds.
I had never created origami before, which is very challenging, and even more so when using thick construction paper, but I made it work after twenty minutes of frustration. When my little blue crane emerged, who I lovingly named Cranium, we went shooting. The shoot itself was very calming. I kept finding myself staring into the distance smiling at nothing in particular. I was just happy to be creating.
The song in the video (Conquering Heights by James Dooley, courtesy of Song Freedom), seemed the perfect fit. It matched what I heard in my mind that day. I love how birds can be such a symbol of freedom, and the vibrant color of my little bluejays felt like a fairytale. I always equate that color blue with a serene and magical fairytale, and so I too felt like I was part of another world. Even shooting, in that less-than-glamorous location, I could feel I was somewhere else entirely.
I hope that you enjoy the video and that you feel inspired to free your imagination.