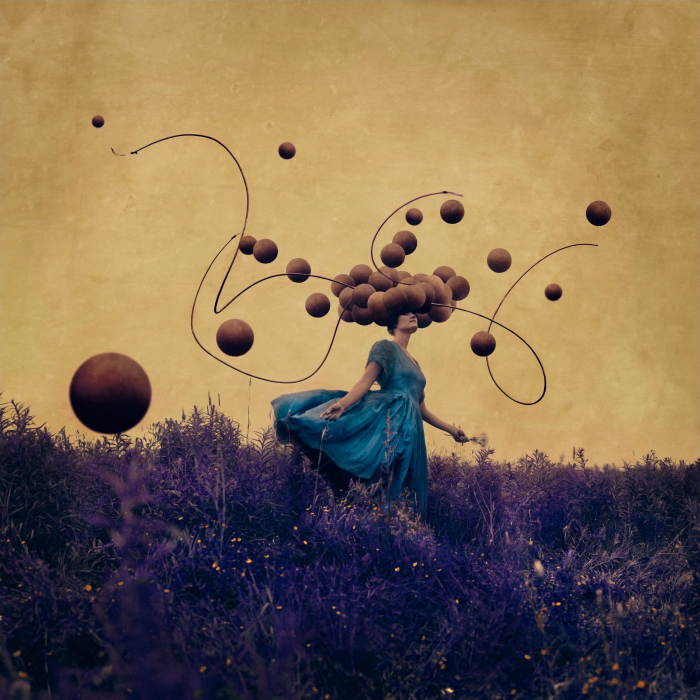 My dear friend Dave Brosha invited me to his house to speak at his inaugural event Land & See, combining landscape and portrait photography lessons laced with inspiration. It was fantastically awesome. Before I left for Prince Edward Island (I totally get why people vacation there!) I received an email about participating in Photo Plus this year in New York City. One thing that the email mentioned was that they were looking for bold images rich with color and that potentially focuses on technology in some way. Well, I wasn't sure what to send in that would fit, so I decided to use that as inspiration for a shoot. I decided to re-do a concept I've played with before and have some fun with technology…which is probably not in any way what they had in mind, but nonetheless…
My favorite piece of technology is our imagination. It is endless and vast and intelligent, which one could argue makes the perfect machine. In other ways our imagination is nothing like a machine. It is random and magical and absurd, yet aren't all of the best things? I wanted to make the imagination come to life while pairing it with our perception of "technology" – wires and gadgets. So when I began thinking about those ideas, I began creating orb pictures. They remain, for me personally, the best representation of imagination that I can muster.
While I was at Land & See I decided that for my shooting demonstration I would photograph this concept, with the Photo Plus instructions ringing in my mind. I went to the craft store and purchased a Styrofoam ball, and then headed across the street to get inspiration from the hardware store. I came out with a metal wire/tube and felt that I had found my missing pieces. I spray painted them copper and then used them as my props while shooting in the most gorgeous field filled with wild flowers, dandelion fuzz, and spit-bugs. Yeah.
The whole class pitched in with picking flowers and giving me hugs and holding the ball and all manner of lovely things, and by the end of the shoot I felt confident that I had what I needed.
A few hours of editing later and I had found a color scheme that I loved. I sent it to my friend who told me the colors were not good, which, for my stubborn mind, meant that they were great, and here we are! My interpretation of imagination turned machine.
Remember to start your machine up from time to time. Don't let it get rusty. Use it often and treat it well. It is the greatest gift, and we possess the power to make it do anything.
Modeled by the double threat photographer and model Lexi Parks.
Assisted by the kindest man & fantastic photographer, Wayne Simpson.