What Serves Us
What Serves Us
I suddenly went from almost never reading to reading 45 books in a year. This blog post is about how to achieve that kind of result…I think.
I went from doing a job that I hated to a job that I loved.
I went from letting emails pile for months to answering on a 24 hour cycle.
I went from never keeping receipts to doing taxes monthly.
I went from being judgmental and difficult to easy going.
A week ago my husband said something to me that surprised me. He told me that one of the things he loves most about me is my willingness to change. I had never seen myself that way before, but since he saw it, I thought it was time to try. I asked for examples, and what I listed above is some of what he said.
Sometimes we are stubborn, difficult animals. We cling to who we are because that's all we know. We don't want to be surprised by the one thing we can control: ourselves.
I've always had a misplaced and singular view that I am right. About what, you might ask? Anything? Everything?
Anyone else ever feel that way?
…I felt certain about how we should feel, how we should act, what kind of life is the best life, what kind of life is the worst.
I didn't listen to opinions very easily. I was not going to let myself be molded by someone else.
At some point in the last half a decade, I became savvy to the idea that there is always more to learn. I became obsessed with curiosity. I wanted to be better than the person I was. And I realized something important: In order to be a better person, I had to see myself from another vantage point.
I started to look at my life from a bird's perspective…and since I'm a visual person, I mean that very literally. I pretended I was looking down at my life from above and I noted what I saw. What did my routines look like? How was I treating the people around me? Where did I spend most of my time, and for how long? Did I look good or unhealthy? What areas of my life were causing stress, and alternately, joy?
I am a big fan of the idea that having fewer amazing parts of your life is better than having many mediocre ones. I don't keep a lot of close friends, I don't have a lot of hobbies. Simply put, I don't make time for what doesn't serve me.
How, then, do I know what serves me?
Give yourself an honesty pep-talk. Being honest with yourself is extremely difficult. It means that you have to acknowledge years of expectations (your own and others) and be willing to throw them away. It means you have to be willing to take chances where before you would never. Honesty is a difficult thing. It is much easier to keep living a lie than to shift into a space of truth. The moment you admit the truth, it becomes real.
Write a list of ONLY 3 priorities. Hint: It is okay for money to be one of them. How much money, however, is up for debate. Your lifestyle and what you're used to may not factor in anymore. If you had to limit yourself to only 3 priorities in your life – the ones that give you the most joy – what are they? Mine are: Creativity, Conversation, Home.
Imagine yourself on your deathbed. Really – imagine that you are an old man or woman and you've made it to the other side of this life, the finish line. You're happy and relatively healthy and you're looking back at what you've done. What does it look like? What did your life shape up to be? What events defined it? What choices moved it forward? When you examine your best life (note, not said in the offhanded way that I've been seeing a lot of) can you map out the decisions that need to take place to get you there?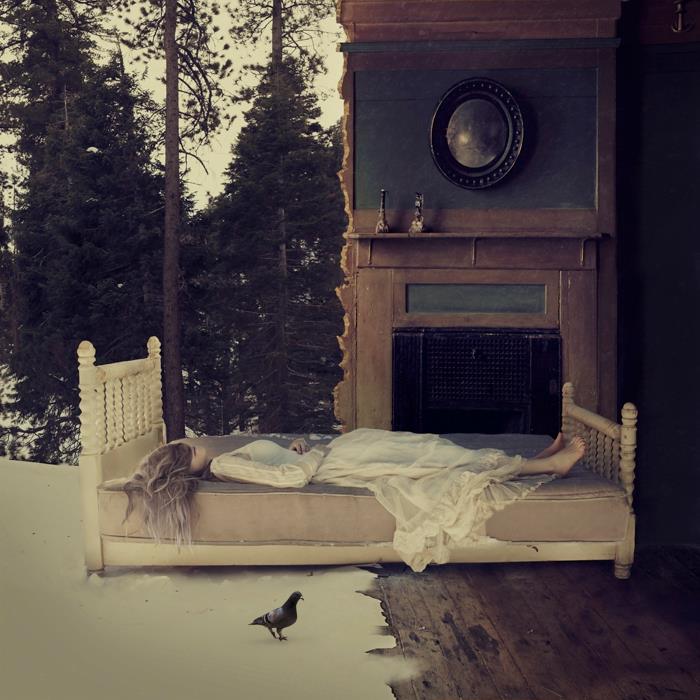 Once you've figured out what serves you, it's time to change. I mean really change.
I'm very fortunate because commitment has always been high on my short strengths list. When my husband and I decided at 16 that we wanted to get married, we were dead serious (we've been together 15 years this year). When I decided I wanted to quit my job and become a photographer, I did it fast and I did it wholeheartedly (that was 8 years ago). When I switched from an entirely meat-eating diet to vegan overnight, it was not so much a choice as a compulsion (that was 6 years ago). I can commit.
But when I break down why I'm able to commit, it has less to do with natural abilities and more to do with vision. I can commit to something because I can see the future.
Not like a psychic. More like an old soul.
It is very easy for me to see a choice and then see how the consequences of each choice will impact my life. If this doesn't come easy for you, I recommend getting trained up in the ways of visionary know-how. This is not to say I always get it right (who does?) but that I work at it a lot.
How do we become more proficient in seeing our future?
We dream. We dream often, we dream big, we dream small, we manifest.
That might sound crazy but it is the truth. If we take time to think about the questions I asked above, about our priorities and our wishes and our lives, we start to understand exactly the type of life we want to live. That knowledge becomes available to us in ways that it wasn't before. It becomes a part of who we are and will be. Dreaming shapes our future so that when we get there, we're ready.
Here is something predictable about humans: the more we sit with something, the more comfortable we become. Unless it's clowns.
If we let an idea settle in our minds, it becomes less and less intimidating to carry out. If we keep the same friends for a long time, we become comfortable. If we do the same job for years, we find ourselves in a routine.
The natural conclusion, then, is this: If you let yourself dream of your perfect life often enough, then taking the steps to actually achieve it are more likely to happen. It has already happened in your mind plenty of times like practice runs.
I set out about 1.5 hours ago to write a blog about how to read more books in a year. After I started digging to figure out how one does that, I realized that this isn't a post about how to read more books in a year. That is a side effect, yes, but it is so much deeper. The person who can make a change like that, which indicates a true commitment and reversal of bad habits, is not JUST someone who begins reading a lot of books. It is someone who takes a huge tug on the reigns of their life.
How did I start reading 45 books a year?
I forced myself to look honestly at what I wanted in my life.
I wrote down my priorities.
I shaped my life.
All to make time for reading.
(The background of this is that I want to be a writer, and I believed I needed to be a reader to be a good writer, so I made a change that would lead to my successful future).
So you see, it was never about reading. It was about what I value in my life, where I want my life to go, and how I want to get there.
Creativity
Conversation
Home
All three of those priorities point me in the direction I need to go. For every idea I have, I ask myself this simple question: Does this idea serve one or more of my three priorities? If yes, I move forward. If not, I let it go.
What serves you?
I'd really like to hear your feelings on this topic.