"Withering Resonance", An Experimental Video
"Withering Resonance", An Experimental Video
As many of you know, my background is in filmmaking. I have college degrees in English literature and film. Though I learned a lot about filmmaking in college, I also learned that I don't have the passion to make films. I want to create movies and am particularly drawn to short, experimental type pictures, but my heart is not in the process that it takes to make a film. Truth be told, I want to work by myself. I don't thrive in a group environment, though it is something I try to work on, so I'm not overly eager to get back into the film world.
However, my passion for it breaks through sometimes just enough to really go for it and to make something for the joy of it. I used to feel a sense of anxiety around making little movies. I felt as though, since I had studied it, whatever I make had better be ah-mazing. That stigma has left me now. I feel only the desire to make, to do, to create. Good or bad, who cares? I am my greatest judge, and I deem myself worthy of success and failure.
Over a year ago I wanted to shoot an underwater video. I collaborated with my favorite DP Devin Schiro and dancer/choreographer/filmmaker Sara Silkin to make this little beauty. It has taken 
too long
to be released, but then again, what is too long, anyway? Last March I rented a house in Hollywood so that I could shoot freely in a black-bottom pool. For one whole day we worked our butts off. What might have taken about 1 hour to film, we spent hours upon hours. The water was so cold it was unbearable. Even our DP had a wetsuit and he couldn't tolerate it. It was a particularly un-Hollywood day with temperatures dipping and overcast skies and rain calling on us.
Our poor actress was shaking to the bone. We could only shoot for a few minutes at a time, maximum, or else she started turning blue, very literally. We had a bathroom with a space heater going to get her body temperature back to a normal level, and after some food on each break, we'd jump back in. I remember shivering so violently I thought my camera was going to rattle out of the underwater housing. I'm pretty good at calming my body and sticking to it, but it was a difficult, physical day. We were all spent by the end. I shot stills as Devin shot video. The video was shot almost entirely on a Go Pro (believe it or not!).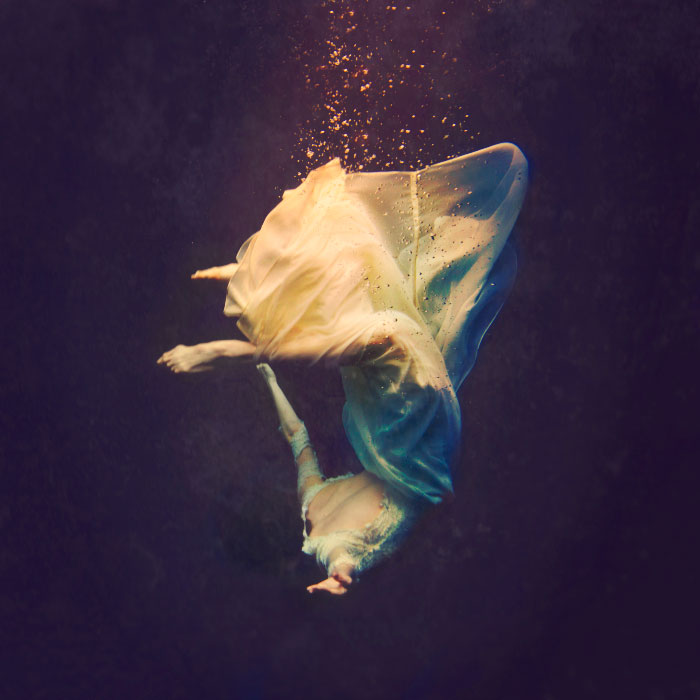 The next morning, before I had to head out of town, we got up for an early morning shoot. After a minor car accident and a lost driver later, we finally got to shooting with the beautiful morning sun. This is something I usually shy away from, but I embraced the contrast and went for it.
What I love about working with friends and a super small crew is that you can have a hand in every part of the project. When it gets too big, it is too easy to get lost. I like to be in control. You might even say it is my biggest weakness and strength. But nonetheless, I know what makes a shoot fun and what brings it tumbling down, for me at least. This small crew made it possible to create and have the jolliest day, too:
Director/Concept: Brooke Shaden
Cinematographer/Editor: Devin Schiro
Talent: Sara Silkin
Wardrobe: Michelle Hebert
Assistance: KD Stapleton & Kelly Mortensen
Music: "Unseen Entity" by Convolv
I hope you get some feels watching this video. It was really inspiring to create as I watched Sara effortlessly flip around underwater, the most graceful little thing. I had the opportunity to photograph Sara in 2010 when I shot images for her dance company and her passion and enthusiasm is unmatched.
I want to encourage you, no matter what negative thoughts you have going on in your mind, to do the thing you feel you cannot. Every time I have an idea for video, I talk myself out of it. I get too "in my head" and feel that what I make has to be remarkable since I have a background in filmmaking. Never stop yourself from creating because of what the end product will be like. Good or bad, the experience is everything…
…Though, after 15 months of waiting, I sure am glad to share this experimental short film with you. Enjoy!
See it bigger here!