12/31 July Challenge
12/31 July Challenge
I had such a busy day yesterday that I didn't have time to brainstorm my next photo. Well, technically, I did have time, but I chose a little self-care instead, which meant eating a giant artichoke and watching Sherlock. It was stupendous. But then 4:00am rolled around and I popped out of bed wondering what in the world I was going to do, or if I should just go back to sleep and phone it in today. I felt awake and ready for a challenge, so I pulled my clothes on and ran to the garage to see what goodies I had hiding.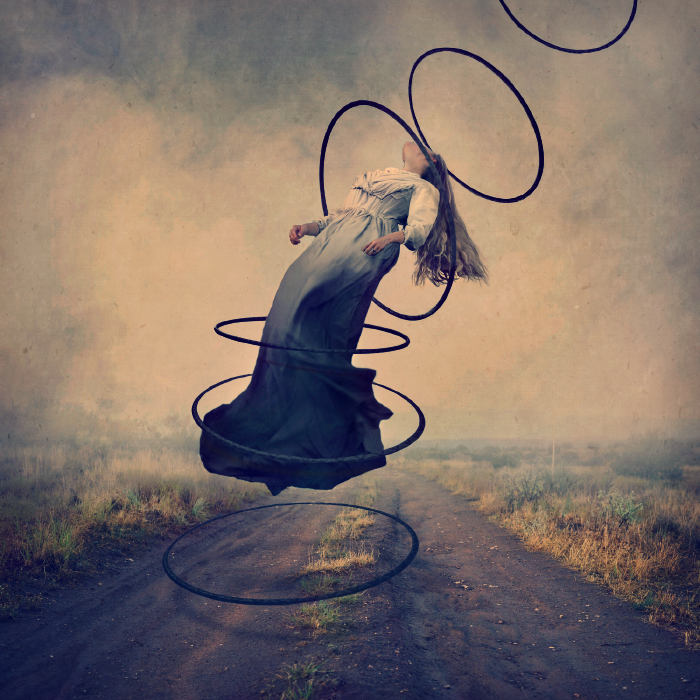 I noticed my hula hoop, which has been hanging uselessly for three years, and I wanted to do something with it. It was calling to me. I threw it in the car, looked at dresses, and kept power-brainstorming (that's when you're under a deadline and your brain is in danger of exploding). That was when I remembered a little passage I had written yesterday that I saved, and wanted to do something based on that. The hula hoop suddenly fit perfectly into this scheme. I chose the longest dress I had, of a neutral color and no decoration, and started driving.
The question I am most fascinated with is WHY. Why do you create? Why do you bother getting up in the morning? What compels you?
Living, creating…they are not so different. In my mind, they are not different at all. I create…
To be understood
To feel less alone
To experience my imagination
To forge my own reality
To give my life meaning
To have adventures
To connect
To destroy my perceptions and rebuild them
To be the person I want to be.
This image felt right for me today – a darkness grabbing at the bottom of the character, a lightness at the top. Ascending…descending. Turning into darkness, becoming light. That doesn't much matter. What is important for me is that I recognize the duality of my creations, of my life, of my persona. To embrace each part of you that would shout for a voice to be heard – that is the heart of why we create.
What is your why?