8/31 July Challenge
8/31 July Challenge
I had the most perfect morning imaginable. I really mean that, even more than other days that I say the same thing (what can I do, I'm an eternal optimist.). I awoke early from a nightmare at 3:45am so I decided to make use of my extra 15 minutes and drive out early to scout. I went about 45 minutes away to find a beautiful forest. As I walked through the trees a family of elk grazed in a nearby field. It was blue out. I felt like the only human for miles. I was completely at peace.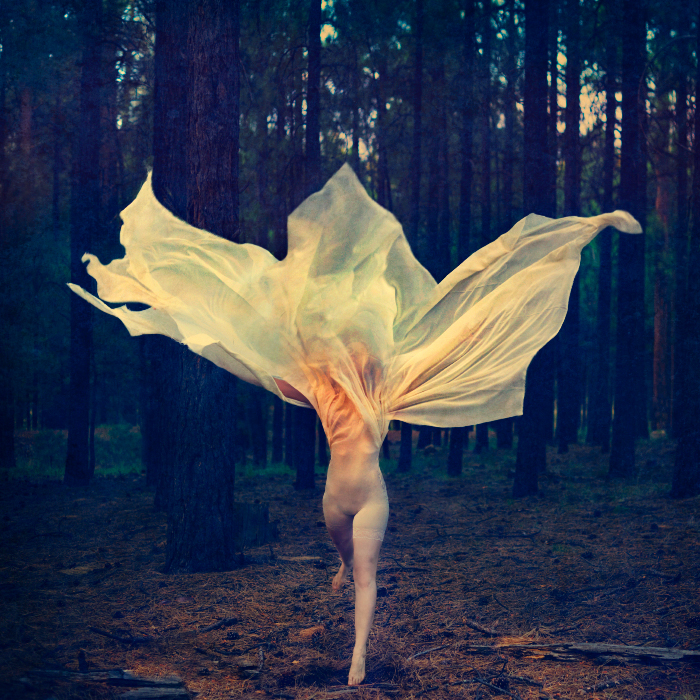 My mind wandered through the forest to the farthest reaches of my imagination and back again as I took a moment to lay quietly on the ground. An ant crawled up my hand and back down again, and I let the tickle linger before wiping it away and going back to my equipment that lay a few feet away. As I set myself up for a portrait I noticed the absence of something. The anxiety that is ever-present in me, be it big or small, was gone. I wasn't thinking of how much time I had or if my idea was good. Where it would have been there was only calm.
Portrait finished, I began setting up for video. I knew only that I wanted a loose narrative and to learn slow motion. I spent the evening before reading forums and tinkering with my camera until I felt certain I could achieve what I wanted. As I began filming I let the narrative take over and lead myself to different parts of the woods, each shot becoming what it wanted to be. I never forced it. I became it.
The narrative turned out to be one that always wants to be let out of me. It is one that I know well, living it and analyzing it, and finally creating it. To shed the veil we keep so tightly wrapped around us. To find freedom in the purity of vision that we struggle for. To let ourselves be touched by what would grip our hearts, but to move despite that on a path that sheds us of old skins. Renewal, rejoicing.
I hope your day is as kissed by the sun as mine has been. I'm quite proud of today's content, and for that I am grateful. Day 8, I love you.