A Winter Wonderland New Year's Eve
A Winter Wonderland New Year's Eve
This must be the most incredible New Year's Eve that I have in memory, and as I write this it is only 9:30am. I woke up this morning with the sun, though it was covered in a dark cloud of mist. I jumped out of bed and ran to my window and I saw a winter wonderland – not common where I live at all. I squealed so loudly I scared my cat, but soon she came to the window and let her eyes dart across the landscape to follow the snowflakes.
I pulled on my favorite white dress, snow boots and a coat and ran outside with my camera and tripod in hand. I didn't think twice about what might be a "good idea" or not, I just did it. I wanted a picture in the snow and I didn't know how long it would last. I wanted to savor that moment as much as I possibly could, recognizing it's fleeting quality and wanting to be there, right there, logging it in my memory.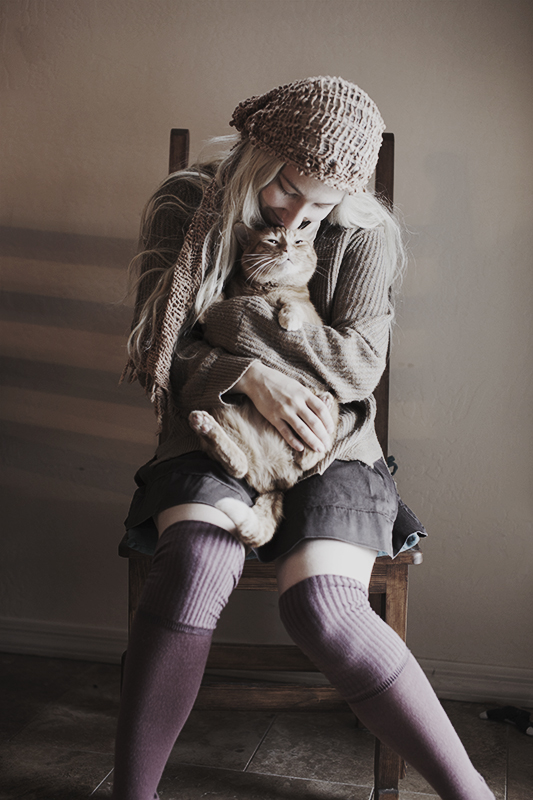 As I sit here, just an hour later, I am hit with the incredible metaphor this morning has been for this whole year I've just lived. In this last year I have taken strides to be a different person – a better person. I began 2014 with the simplest of goals: be kind, share love, appreciate more. Even the simplest goals have their difficult moments. This morning I slipped in the snow as my feet turned bright red from the cold and nearly dropped my camera in a puddle. But even so, it was worth it, whether a photo results or not. And that is what I learned from this year: It doesn't matter if something works out in the end. All that matters is how hard we tried, how much we loved, and what story we write in the process.
I can't help but look out my window and see the snow very much like a twist in a novel. It never snows here. This feels like a New Year's miracle. And just as a novel might do, life has thrown in a twist of joy. Stories exist to excite our minds. Stories are life and imagination smashed together in a great dichotomy of wonder. And so, in this amazing world we live in, it is easy today to see how even the simplest stories create moments ripe for an amazing life, no matter how small, commonplace, or insignificant they seem.
As each year passes I realize more and more why I am who I am. I am a storyteller, and I want nothing more than to share the world with others in the way I see it. We each see so differently, and beautifully, and it is a shame not to share in those experiences. And so I tell stories, with a camera or with my words, and I hope each time a new one blooms that someone will want to be a part of it.
I have struggled through great life lessons this year. I have recognized my flaws and worked to fix them, knowing that once they are fixed new ones will appear. Life is funny like that. I have seen my impatience and have found peace. I have worked to see all people as equally important. I have embraced a mindset of love, for that is what connects one person to another: the desire for it, and the capacity to share it.
It is so very difficult to look back on this year and see anything tangible. I care so little, more and more, for those things which might traditionally define a person. An exhibition, a speaking event, even creating a new image; it all feels so small in relation to the bigger picture. For each and every endeavor that one can embark on, no matter how many accolades they might receive, can always be reduced to the simplest idea: what kind of story did you create from the experience?
And so I move into the new year with Story on my mind. New goals follow that pursuit, though I'll leave that for a different blog post. For today, my story is about a girl who gazed in wonder at a scene powerful and moving, and as the snow whipped through the air and settled in her hair she realized that the greatest gift one can receive is that of presence. For in the moment, no matter how small, there are great stories to be told.