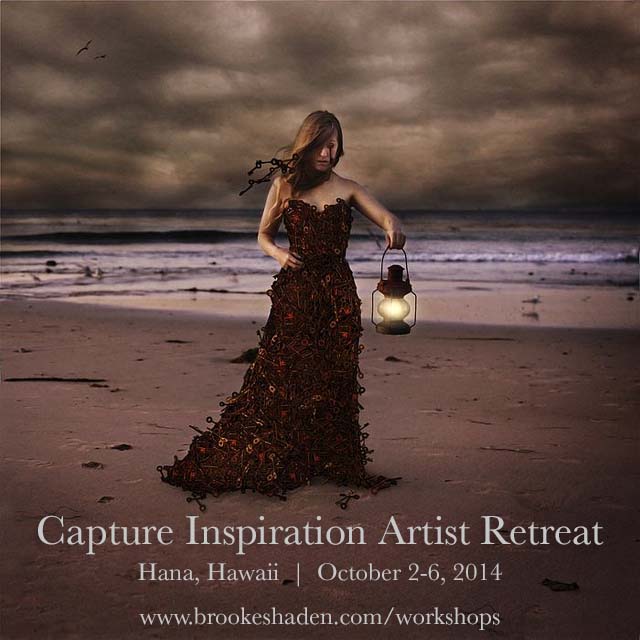 Artist Retreat in Hana, Hawaii!
Artist Retreat in Hana, Hawaii!
A dream comes true every time I am given the opportunity to travel and experience the inspiration of adventure…Join me for a long weekend away in Hana, Hawaii for an artist retreat absolutely filled with nourishing adventure, 3 days of education, and experiences that we will never forget.
http://brookeshaden.com/workshops/
From waterfalls to caves and underwater photography in the ocean, we will create adventures together that go beyond a workshop setting. For 4 nights we will live together, create, inspire, challenge, and share ourselves while a new family is born. Retreats are meant to feed the creative spark as well as the creative's soul. I know that's how I feel…renewed and passionate, and that is why I love hosting artist retreats so much.
The price is all-inclusive outside of transportation to the island of Maui, meaning that your living accommodations, food, transportation while at the retreat, and location/model fees are included. You show up, we take care of the rest. The "we" I reference are myself (I'll be leading the event), along with two assistants and a resident model who is there for your inspirational whims.
You need nothing but your favorite camera, a laptop, and a tripod if it isn't too difficult to fit in your luggage! Read the information packet on my website to get more details, pictures, and a thorough schedule…or to book a space!
October 2-6, 2014
$1,950 per person
My theme song for this retreat!