Creating a Self Portrait
Creating a Self Portrait
I get asked all the time why in the world I take self-portraits. Usually it is a simple curiosity. Especially from fellow photographers who can't imagine being in front of the camera, this is a strange thing to do. It is vulnerable, reflective, and telling.
But it is also a way to take control over all parts of your craft – to focus on the self is to be bold, brave, and mindful. Or at least, it can be.
Often the fear of self-portraiture goes back to body image. And, the assumption about self-portrait artists is that they love the way their body looks, so they photograph it. I can only speak for myself and what I know of other artists, and that isn't always true.
I create self-portraits to see myself as a character, to be in total control, to not be accountable to anyone but myself, and to embolden and empower myself. To find acceptance.
One of my favorite self-portrait artists is Samantha Geballe. You'll see why immediately. She is vulnerable, direct, bold, and innovative in all that she does and says with her lens.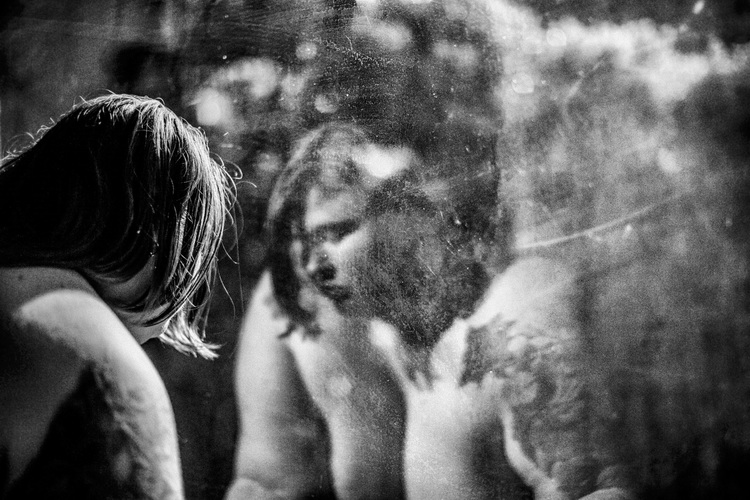 She is also the perfect example of someone who takes the conversation in the direction she wants. She is an artist who drives conversations, not one that takes a backseat.
Self-portrait artists can be harshly judged. I've received emails saying that I shouldn't create self-portraits because I'm not good looking enough. It happens. (Don't worry about me, I'm a very tough cookie.)
But I think that a really smart artist drives the conversation. If you create a self-portrait and want to talk about body image (like Sam does in a lot of her work), then do that intentionally. Be the one that moves the talk in a way that feels productive to you. That doesn't mean criticism won't come in, or that you won't hear hurtful comments, but you are more likely to command respect and positive attention in this way.
For example, I am very mindful of how I write online about my work. If I feel the focus should be on the theme, I write about the theme. If I feel it should be on the story of the image, I write about that.
This directs the conversation away from a place I don't feel it should go.
I remember in my very early work I created an image where I highlighted and accentuated my rib bones. I released that image and received a backlash of comments calling me anorexic (which is a horrible accusation to throw around) and, essentially, body shaming.
The next time I posted an image like that, I didn't get mad about those names I was being called. Instead, I directed the conversation. I drew attention to the fact that I was accentuated my bones for the story of the image. The entire conversation changed, and it became about why that choice was made.
In self-portraiture, we have the ability to direct the conversation just like any other time we release our art into the world. You might argue that we shouldn't have to do that. That people should just be nice. That we shouldn't have to deal with judgment. But, that simply isn't the world we live in. And if I am given a chance to be in control, I am going to take it.
Throughout my 9 years as a self-portrait artist, I have learned more about myself than I ever thought possible.
I've learned how to see myself as the main character of my life, not just my images. I've learned how to love my body through bad camera angles. I've learned to not touch the liquify tool in Photoshop, to not change my body, to let it be as it is. I've learned photography through self-portraiture, learned composition intimately, learned how to express emotion through non-verbal communication, and more.
I highly encourage you to create a self-portrait. It might be just what you need and you didn't even realize it. Or, maybe it's old hat and you're in the market to try something new with it. Either way…
This week, create a self-portrait.
Share a link to it in the comments below.
What are your fears about self-portraiture?
What has your experience been?