Creating "Contact"
Creating "Contact"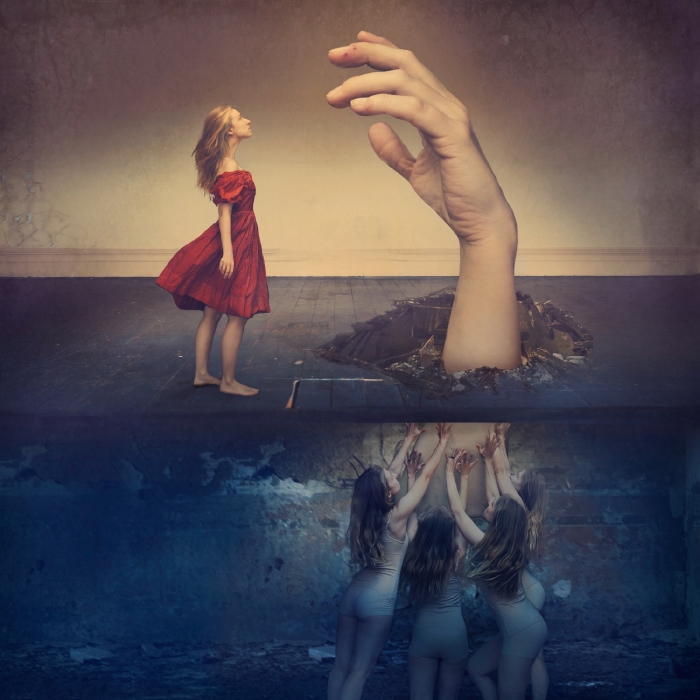 Yesterday I started editing some images I had shot a few weeks back with no notion of if they would work out or not. I pulled old stock images I had taken years ago combined with one that I purchased online as well and started playing. My friend Dave Junion is always telling me to play in my craft. It is too easy to be too serious. We put such pressure on ourselves to create something good that we lose sight of the fact that what is good now won't be good later. And, that if we continue to create what we feel is good we will never progress to what is better.
That said, yesterday I played. I played from morning until night and then this morning again, working on this image, not caring if it turned into something or not. I followed my vision, made a few changes, and experimented. All-in-all this edit took a few hours which I recorded and condensed into one minute, so chunks of the process are missing. Notably, the cutting of the various figures to fit into the scene.
I record these quick editing videos not to share my whole process or to show what I do, but to show what is possible. You don't have to create like me. You may not even be an "artist" in the traditional sense at all. But the fact is that we all create, and we all need inspiration to go further in our craft. I hope that my videos like this, if nothing else, inspire you to try new things. To see what is out there and to believe that your vision can be brought to life.
This image is called "Contact". My fascination with two worlds colliding has been growing and growing ever since I started reading Myst. Have any of you read it? It was my husband's favorite book series (and game) for a long time and I never got around to digesting it. Now it is all I can think about. The premise of the book being that there is an underground race of people who can create new worlds. Pretty much right up my ally.
I hope you enjoy this speed edit! Let me know if there is anything else you'd like to see me share!
Image: "Contact", self-portrait (x6)
Music: "An Old Picture" by Above Envy