#FailureFriday: Creating Despite
#FailureFriday: Creating Despite
Today's honest and vulnerable #FailureFriday comes from a story I wanted to share. Some of you may of seen it on my Instagram story last Sunday. As many of you know I have anxiety, particularly social anxiety. It causes me grief sometimes, but I have been proud of how well I keep it under control most of the time. Last Saturday night I let it overcome me, and I had a rough Sunday morning.
I was in Palm Springs for the incredible Palm Springs Photo Festival. My hotel reservation was messed up and I found myself driving aimlessly around the street of Palm Springs until midnight on Saturday wondering where to stay. It all got worked out, but it started my anxiety up. I felt out of place and vulnerable and overtired, and I started to fall apart. By Sunday morning I felt somewhat better, so I decided to drive around and find some vintage stores. Every small thing started triggering me: talking to the shop owner, shifting through a group of people, even the thought of going to a restaurant.
I knew I had to do something about it.
I pulled my car over in a neighborhood and tried to calm myself. I thought very deeply about what would make me feel better. Two things: creating and community. The foundation on which Promoting Passion is built on. It was natural.
For anyone who suffers from anxiety or depression or something similar, you know how difficult it is to push yourself to do something in that state. I decided I needed accountability. I turned on my Instagram story and started talking – about my anxiety, about how out of place I felt, about my nerves regarding the festival and how I was by far the least experienced instructor there. It made me feel less alone.
Next came the creating part. I saw some rocks and wanted to create something there, so I turned on my Instagram live story and recorded the process live, intermittently running back and forth with the phone from my camera to the rocks to create an image, while also talking about my feelings/emotions.
When it ended, I started getting messages from my community staying THANK YOU for sharing. Saying THANK YOU for being honest. Saying THANK YOU for giving me permission to feel.
I felt like such a failure that day. I felt like I would never be good enough, like I would never fit in. And while I didn't manage to make it to the faculty dinners or "shmooze"  with the "right" people (good grief, how is that even a THING?!), I did do my damn best at teaching my class, and I took my students to eat, and I went to lectures, and I fufilled myself with yoga and spontaneous moments and hugs like you wouldn't believe.
I never anticipated that my anxiety could be something good. You never do when you are in the throes of it. But there I was, shaking from nerves, trying to breathe deeply, and someone was there, watching, and thanking me. It proves that though we may see ourselves as failures – we may feel out of place and low and sinking further – that is the very thing that connects all of us beautiful creatures. That is the depth of our soul. It is joyous and it is deep. It is melancholy and it is bliss.
—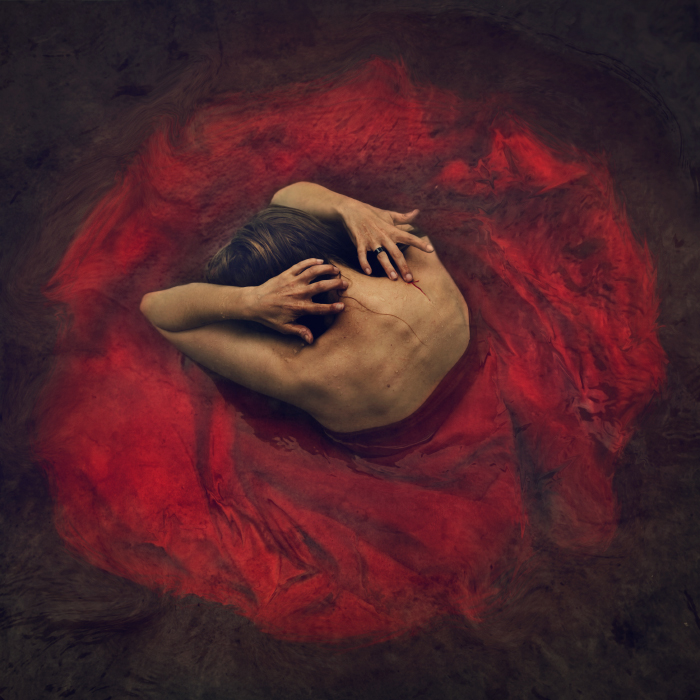 Image created during my workshop at PSPF when one of the attendees asked me to demonstrate a self-portrait.