Dreaming of Ophelia
Dreaming of Ophelia
When I think about who I am, I fall back and forth between two different characters. One is vibrant and happy while the other is more fascinating to me. She is not who I am, but who I dream of. She is melancholy, a dreamer, someone who longs to live in a fairytale world. She is spirit and ash. She rides the wind.
I have been creating so many images lately with heavy compositing, and I was loving that experimentation. I have no plans on stopping, either. But in that haze of image editing I decided to try for a simpler composition and shoot in my favorite spot in the forest. I went with my friend Kyna to take some photos. We had tea and chocolate and then sat in the ivy, burning candles and playing with wax.
Earlier in the day we visited a local Goodwill and found many books for the photo shoot. I bought about 25 of them and decided to make do with those. One that we found, which was extra special, was a huge anthology of Shakespeare's works, with illustrations. It was incredible timing, as I was fashioning the character of the image around Ophelia.
When we got to the forest I opened up the Shakespeare book and turned to Hamlet where I found the page you see in the final image. I put a vine in her hair and posed her quite similar to the woman in the book, and decided to go for a play on characters: one mimicking the other.
To read is to escape; to become someone else; to wish for a new life. So much of reading is becoming, not just imagining. We can feel what they feel, and in doing so, become those characters, even if for a brief time. Escape, release, and imagination. These emotions are what books are made of. Enchantment.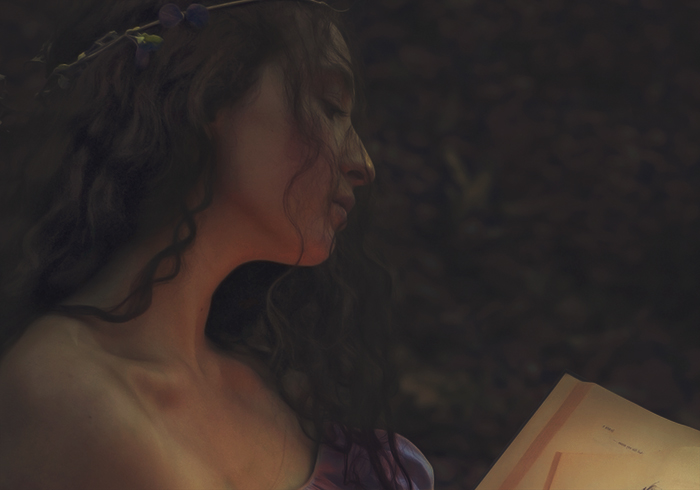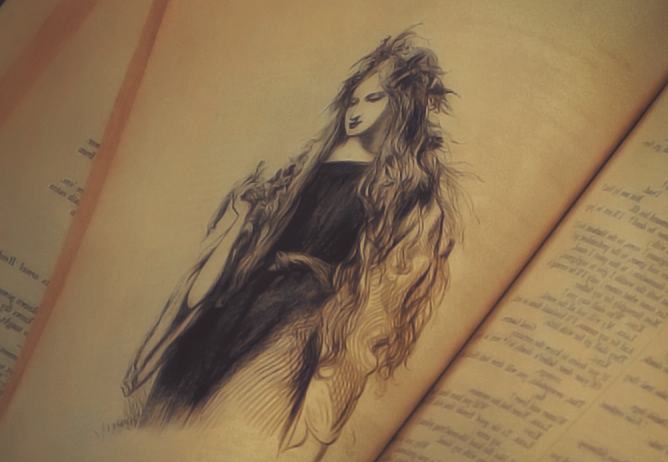 Who are your favorite storybook characters?