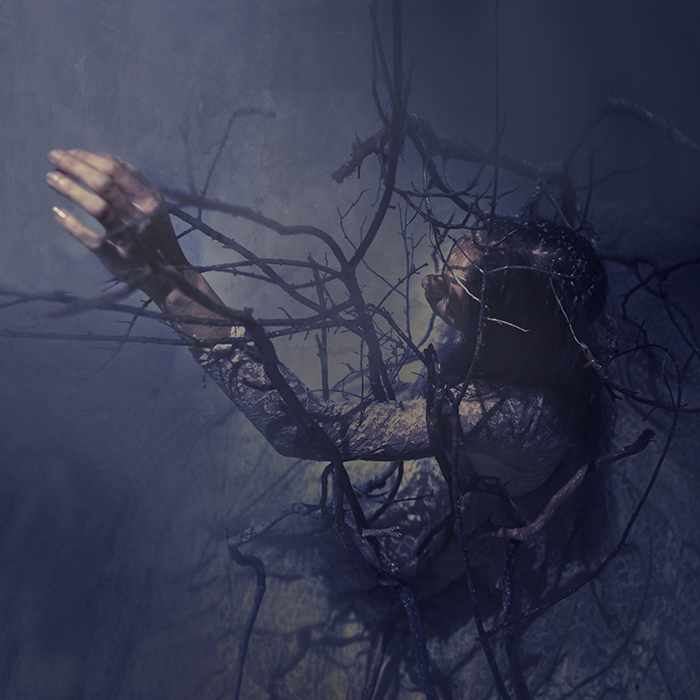 In Our Little World
In Our Little World
Yesterday I was honored by speaking at Imaging USA for the first time. I had never been to the conference before and it was my first time exploring and getting to know the layout. I love going to conventions because I can sit in on classes and meet new people, though admittedly I always feel very out of place. The photography conventions I have been to do not cater to the fine art photographer, but I think, perhaps, that is why I enjoy them. I like being immersed in a world of photography that is not my own.
I began my lecture sitting barefoot on the edge of the stage, hugging as many people as I could and generally feeling really happy about life. I was about to talk about my passion and what could be better than sharing what you love with others? I did my talk, and then a shooting demo with someone I met on the sidewalk that morning as the model! Sticks and a lot of baby powder later, and voila! A photograph. I edited it right after for everyone to see.
Now here is where we get to the part of this story that I am having trouble pushing out of my mind, and so I wanted to write on it. After the demos I went outside to greet people and say thanks for coming (and more hugs!) and I heard a couple things repeated by many people.
One was that I am a very controversial speaker. Exactly why I could not say, nor did I expect to hear that, but the general sentiment was that I was speaking on things that do not get spoken of very often and that I do so in a very matter-of-fact way. From my point of view, I say what I think and I say it from the heart. I don't mind if people agree or disagree and I am simply grateful that anyone thinks anything at all! Another was about how strange it is that I am not selling a product. I guess it is normal for a speaker to sell products after their lecture, but I am just terrible at things like that.
I understand why I may be different from some other speakers (though in truth I don't know many speakers or generally what the education is like at conventions, I speak only from comments I heard after the lecture). I do not think this is good or bad, that I am better or worse. People need to sell to make money and I get that, and I simply don't have many products to sell and I adore connecting without a product in between us. People talk technique because it is part of what fuels the creative process, and well…it's fascinating!
I think the thing that has been stuck in my mind ever since the convention is one very simple thing: I am stuck in my head, lost in my own little world and I love it there so much that I have a hard time getting out. I go to a convention, I meet wonderful people, but I cannot do things how it is normally done for fear of losing myself. I walked around the expo yesterday in a daze, looking at all of the booths and products, not understanding what more than half of them were, all the while composing a short story in my head. Perhaps that is the problem. Or not.
Every single person has something about them that is unique. It could be as simple as understanding who you want to be and acting on it. It could be that you have a story to tell that the world needs to hear. It might be something from your past or something yet to come in your future, or something unfolding right now that sets you apart. But whatever it is, it is there, and it can be fueled and embraced.
I used to be terrified of events like Imaging. I used to fear crowds and people and conversations. And what has changed is not huge but is fundamental and so important, and that is how I embrace myself and my weirdness. I love imagination and stories and getting lost in a place filled with wonder and awe, and so often, that place is the story in my mind. And so, when I go out to conventions and things of that nature, I find it simple now to retreat inside myself and speak from a place of love and honesty. I speak from the inside out. And when I am judged negatively, it does not hurt because I am so content with the messages coming from my heart. Whether someone else is content with that message is not for me to worry about.
—
Are you lost in your own little world or wish you were lost there more? Are you finding your weirdness or have found it? What makes you unique?