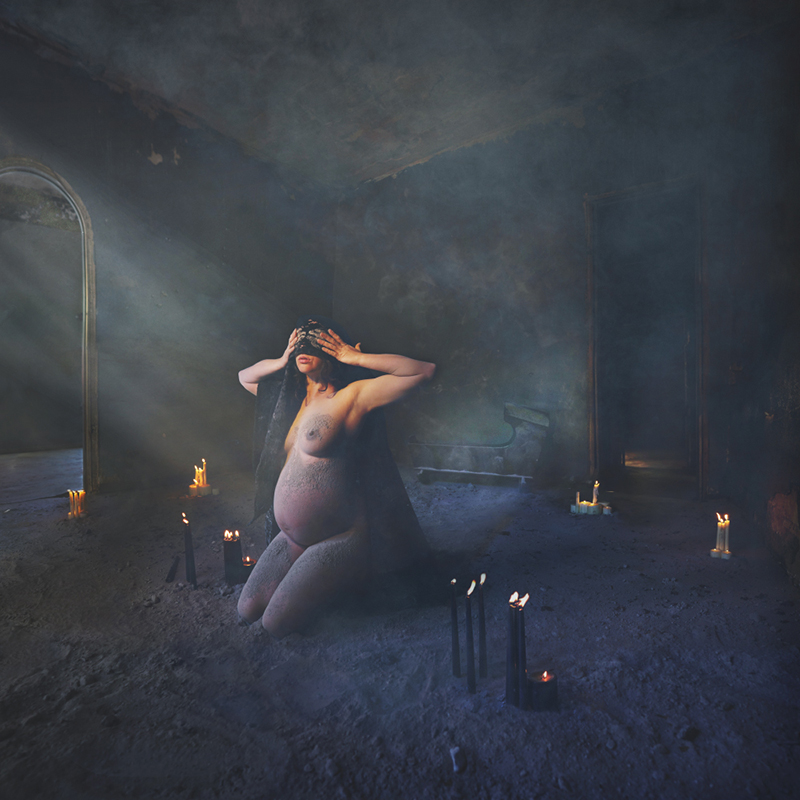 Meant to Be (part 1)
Meant to Be (part 1)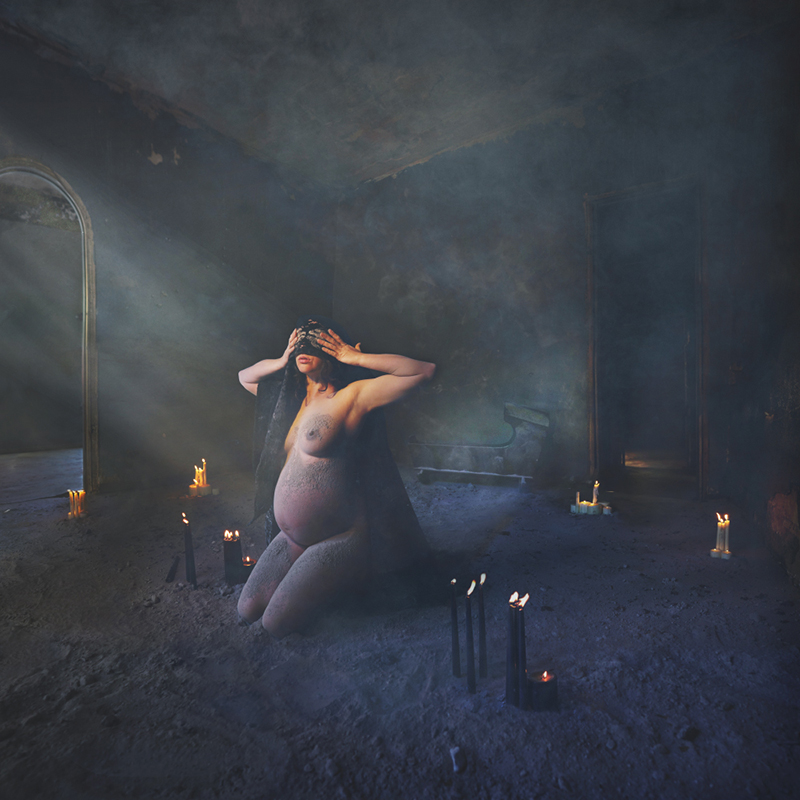 This image was meant to be exactly what it is, but it wasn't meant to be what I tried to force it to be. I set out to create a new photo series all about death. I had personal reasons for doing that, but that story is for another day, maybe months from now or maybe years (or maybe never). I wanted to break down the barrier between the living and the dead. I wanted to confront what scares us most about death and in doing so, become better acquainted with my own mortality.
Alongside an idea is always a technique, or in other words, the physical manifestation of that idea. How was I going to portray death? What would the series look like? How would it come across?
At the time that I began the series, I was in a transitory period as an artist. What I didn't realize was that it was just the beginning of a two-year struggle to find my new voice and vision. Back then, I thought I knew exactly what I needed to do to take my art to the next level.
High budget productions, ornate sets, and models.
So I started building a new series on paper, writing about it and casting models. I rented a few abandoned locations and decided to give myself a one year timeline to finish this new body of work.
As I went on, it became clear to me that something wasn't right. I liked the images, spent thousands of dollars making them, and on some level, was proud of myself for creating in ways that were a bit foreign to me.
But on the other side..the IN-side, I knew it wasn't right. It can be very difficult to admit, after so much money has been invested, that something isn't working. But that is the conclusion I eventually drew after 1.5 years of working on this series.
The problem wasn't with the series, but with the way I was creating it. I realized I stubbornly tried on different ways of creating, hoping in the process to find my new style and vision. The truth of the situation was that I was relying on visuals and techniques that I thought would make my art better, not that I actually wanted to utilize.
It also turns out that I needed that whole year and a half to reconnect with myself. I had a very scary, very honest talk, alone in my garage, about what this series should actually look like. And when I reassessed, I learned that I needed to go back to basics. That the simple, inexpensive techniques that have always served me well would serve me well again. That I didn't have to change everything about my creation process to do something groundbreaking.
But, that's for another time. For now, I want to share the story of this image with you.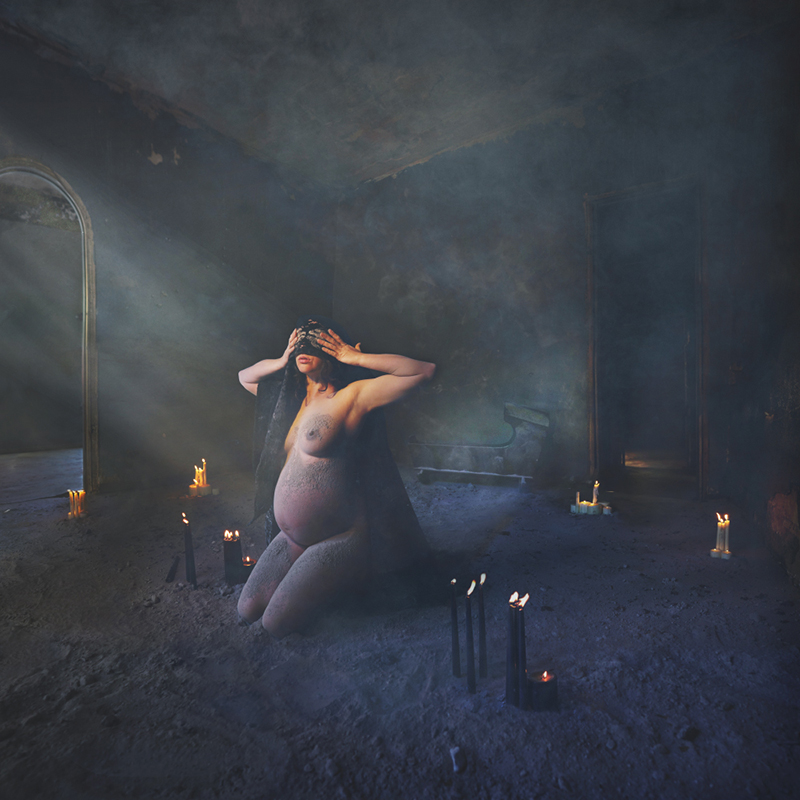 I contacted my friend Kyna to do a photo shoot. She was 6 months pregnant at the time. It felt like harmony as I pursued a series about death and she was about to bring life into the world. I crafted an image around her, deciding to play up the themes of life and death.
In a really scary moment, I decided to ask her a question that I hoped wouldn't offend. I asked her if we might create art using her father's ashes. He passed away a few years ago and I thought, with new life and old, that we could create something really meaningful.
Here's the thing about being a totally out-there, weird artist: you attract like-minded people. She didn't flinch at the idea, but instead welcomed it openly.
I booked a location, drove 3+ hours away to find it, and then took a 1 hour truck ride on the most treacherous road to get to the house. It was off-roading to the extreme. But finally, we got within a mile and hiked the rest of the way.
I spent the day before gathering ashes. I went around to some local campsites and asked if I could clean out the fire pits, which the park managers happily agreed to let me do (that way they didn't have to do it!) and I took those ashes with me to our location. They were HEAVY, which was unexpected, but we somehow managed to hike with them up to the house.
I scattered the whole room that I chose to shoot in with ashes, and then set up tall black candles around the space. In addition I set up a light outside the window to create streaks of light, and kicked up dust to create a hazy effect in the room. I also bought an old bassinet for the background.
When it was time to shoot I asked our helpers to leave so that we could have privacy. It was time for her father's ashes. It was years working to heal through his passing, and this was one more step in that process. She had the box next to her, and I asked her to take some ashes and wipe them across her eyes. She did, and it worked, but we needed more. Eventually holding the pose and getting the fabric to stay up was too much to keep together, so she asked me to spread the ashes.
I felt such an interesting feeling of connection and disconnection in that moment. Connected, because I was permitted such a sacred rite. Disconnected, because I could feel the bone pieces in the ashes as I wiped them across her eyes and I recognized what I was doing in its component parts; that something can carry memories, and therefore be alive in one way, but be entirely inanimate, too.
We finished the photo shoot and packed up as best we could. Hiking down the mountain, I remember feeling such awe for her and the amount of vulnerability to do a photo shoot such as this one.
She thanked me for creating something so personal to her, but for me, it was universal.
We all touch death. We all touch life. In that, we are all connected. She gave me a gift that day that I will never forget, and it was the gift of facing death (and life) in a way that most people don't get to. To hold the remnants of a person in my hand and to be entrusted to create art out of it. To be told, through willing participation, that my vision is worthy of creation.
That is the gift that this image gives me. And to my dear friend, whose baby girl is nearly a year old now, I thank profusely for participating in and helping to create this story.
Though this image won't live it's life as part of the series I intended for it, I'm learning that sometimes the things we create have a way of settling into exactly the place they were meant to be.
—
Photographed in January 2018 on a Sony A7RII + 24mm lens.