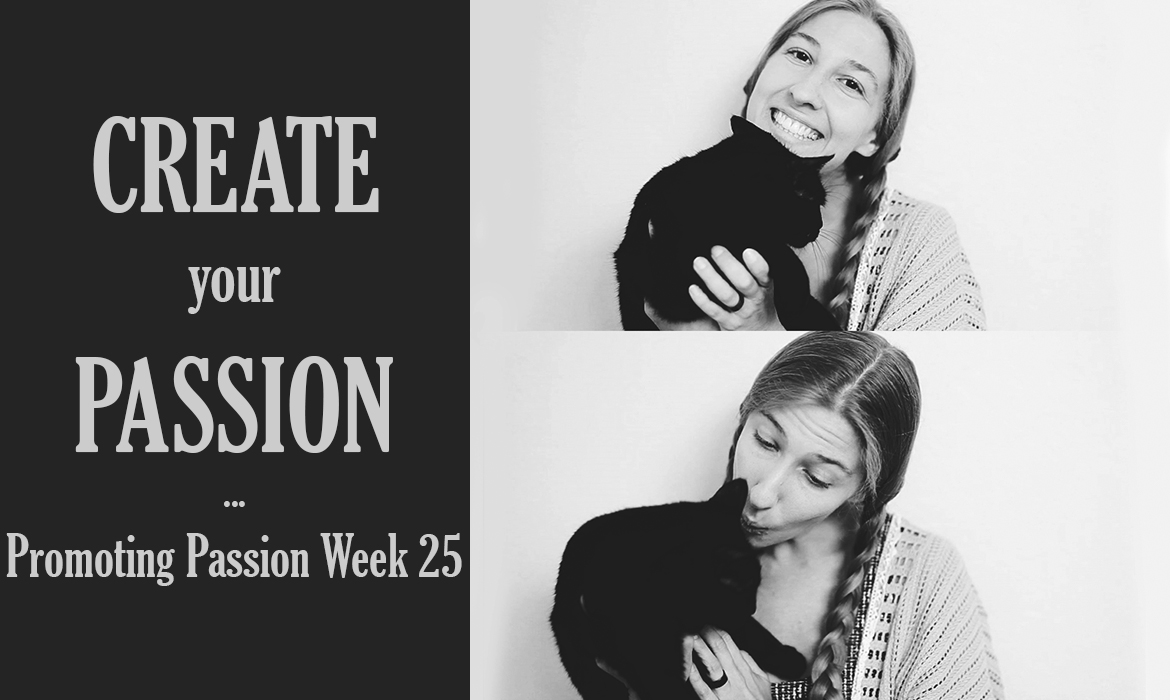 Promoting Passion Week 25: Create Your Passion
Promoting Passion Week 25: Create Your Passion
So, you don't know what to do with your life. Or, you have some idea, but you don't know how to go about doing it. Or you do know, but you think it won't work. Or you do know and think it will work, but you let fear hold you back.
Fear is at the heart of all that we do or don't do. Overcoming fear allows us to push forward in life, and succumbing to fear holds us back from doing what we love. But whichever side of the battle you find yourself on today, remember that it is not over. New fear might come creeping in, or old fears might sit stubbornly right where they are. The key is defeating them and becoming a stronger person in the process.
So much of not knowing what you want to do in life is not being honest about what you love. Take my friend for example. She likes photography as a hobby but never thought she was quite good enough to pursue it. She loves food but always thought that was a silly thing to classify as an interest. And then the other day she said something that I've been waiting for her to say for years: "I want to be a food photographer".
YES! That is how simple it can be. If I think of the most successful, happiest people in my life, they got that way because they were honest about what they like and they pursued that as a career. It might not work. Not every person who tries out their interests as a career will end up with a career doing what they are interested in. However, there are always more than one way to do anything, and if the first option doesn't work out, it isn't time to quit.
These are my absurdly simple suggestions for finding your passion and turning that passion into your life.
1. BE HONEST.
Figure out what you love by asking this simple question: "If you could spend your time doing anything, what would it be?" My answers are: writing, photography, and being in nature. Therefore I am trying to build a career where I can write stories, take pictures, and do all of that in the great outdoors.
My friend's passions are food, travel, and photography. She is now putting those together to create a career.
I have yet another friend who has a rather peculiar problem: she has too many passions. She loves almost everything…except for what she is pursuing. She loves traveling, comedy, music, helping others (huge people person), rock climbing, and so on. The list is very long. Any one of those things, or a combination, could be made into a career. What holds us back is personal and something that we must all get past in our own time.
2. TRY A LOT.
Don't just try one thing or even two or three or four. Try as many times as it takes. Try now and then try later, or a lot later. Everything might not happen at once and that's okay. Things take time. Our ambitions grow and change and life might not be willing to keep the pace. But if we realize that success is not on a timer, we will always be more content chasing our dreams.
3. EVERYTHING IS AN OPPORTUNITY.
If you're trying to get out there and turn your passion into a career, the best thing you can do is to never dismiss something because you think it won't directly help your endeavors. You never know who or what will be unexpectedly inspirational or helpful. Every person you meet could be someone who changes your life.
4. INVENT YOUR LIFE.
Just because you haven't heard of a job before doesn't mean it doesn't exist or can't exist. Chances are that if you have a passion, there is someone else in the world who shares it. And the chances are just as good that your passion is something you can get other people excited about. So take what you love and invent a job from it. Turn it into something you can share with other people. Just because it isn't a mainstream idea doesn't mean it can't be done.
5. INVEST IN YOUR LIFE.
How often do you fail to do something because it costs money or takes time or wastes energy? I'm not talking about failing to go to the grocery store or the bank, I'm talking real-life, important things. In fact, for a lot of people doing those daily activities does become more important than investing in a future. You need to realize that your passions are worth pursuing, no matter how hard that is to believe. When you inspire yourself, you have the opportunity to inspire others. So invest in yourself, financially if possible as well as with your energy and time. In fact, especially with those last two. The more you put into your passion, the more you'll get out of it.