Promoting Passion Week 89: Iceland Revisited
Promoting Passion Week 89: Iceland Revisited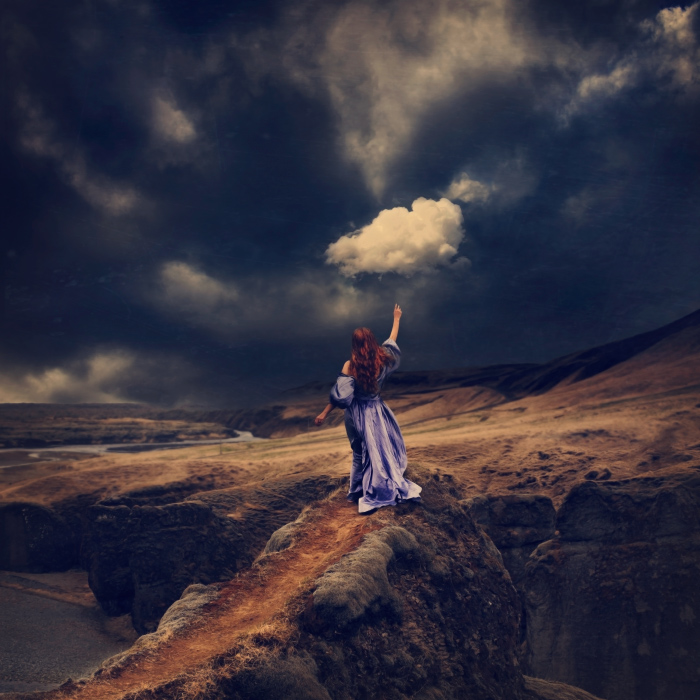 I did 30 photo shoots while I was in Iceland, so we can't really expect the images to let up quickly, right? This is another image from Iceland, and what a brilliant day it was. Our group arrived at this famous site very eager to create, but even more eager to eat. So we cooked in our campers before shooting while I ran ahead and tested the safety of the little bridges that seemed to be created just for us to take pictures with.
When we all saw the location as a group, it was overwhelming. The weather was perfect, with storm clouds rolling in the air, never letting a drop of water out, and vast, insurmountable scenes that only Iceland can produce. I wanted a picture out on the natural pathway, the bridge to nowhere.
The wind whipped at us, as we had grown accustomed to, but nothing can prepare you for a climb out on a rickety ledge in a billowing satin dress. The gusts were harsh, and as it caught my dress I looked down at just the wrong moment, feeling every second of the drop below. I decided it would be best to crawl out since my dress was pulling me so hard. The satin was a poor choice. As I knelt down the fabric was slippery, and my knees and feet were caught on it as I tried to make my way to the edge. In reality it wasn't a very long way, but it felt winding.
I tried some images laying on the ledge and some standing, but in the end, standing there with the wind pulling at my dress, it felt right. I knew what I was creating, where the story was going, and how to tell it. This is my bliss. This is how I know I am doing what I am meant to do. Creating. Storytelling. Sharing.
It took me a while to edit this image when I got back. I remember creating it and thinking that it was the easiest image I had taken thus far. I knew exactly what I wanted from it, and I could already tell I really liked it. So why, then, did I put it away in a folder on a hard drive and refuse to look at it when I returned? I started fearing I'd never have the motivation to edit it – that it would be one of those images that stays hidden forever, for some unexplained reason. And yes, I have many of them.
I realized, after months of being home from that trip, what it was. I had loved the image so much. Loved the shoot so much. Knew just what I wanted from the image. And in finishing it, that day would be over. A memory captured in that image. Nothing more to go back to, nothing to look forward to. It was like closing a chapter on a day that I loved so much.
But upon editing it, I felt empowered. I relived the magic of that moment. I could feel the wind at my back, pushing me onward to the edge of the bridge to nowhere. And I embraced it. I let those emotions sweep over me. I felt a rush of bliss.
It wasn't until I was putting this video together that I realized the impact of what I was creating. I went searching for music and came across this song by Message to Bears which touched me so deeply, I felt as though it was the perfect punctuation to a long and elated sentence. It gave the image more meaning. It gave the image life.
Throw it down, look away,
Don't be scared, it's okay.
Settle down, set it right,
Don't be scared, it's alright.
To have memories that we cherish, to have images to remember them by… Life is constantly growing all around us, and I am content – radiantly happy, even – to sway with it. Let it move as it will, and I'll create with it as well as I can. Walk out onto the ledge, reach for what you want. Every storm has an eye, every fear a beacon of hope. So settle down, set it right, don't be scared, it's alright.
Which music inspires you to create?
Any songs that you feel match perfectly with your vision?