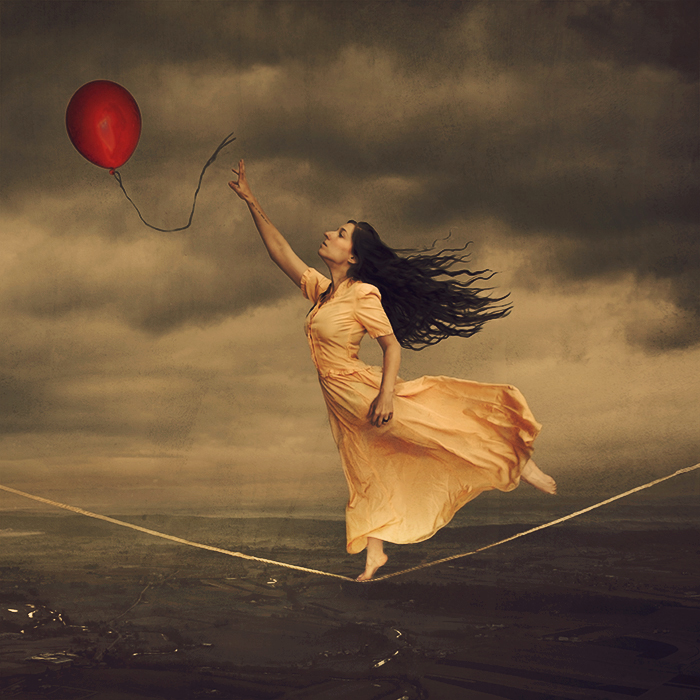 The Dream That Dares Us
The Dream That Dares Us
Just a few days ago someone was talking to me about taking a leap and going after a big dream of theirs. What were their final thoughts on the matter? "If I do it, I'm afraid everything will change." And my response? "Of course everything will change!" I don't know that my "encouragement" made them any more willing to go for it, but nonetheless, it was the truth.
When you want something and you take steps to make it happen, you are enacting change in your life. It is the scariest part of the process. We tend not to fear having the idea, or seeing it through once we've started, or reaping the benefits, or even failing. We fear the moment when we decide to disrupt our lives. Very much like the first step onto a tightrope, we have no idea what to expect. Will it hold me? Will I fall? Will I stay balanced? Will I hurt myself? Will I turn back out of fear?
But there is a reason why the first step is the hardest. We are programmed to fear change. We are programmed to fear the unknown. But we are also programmed to seek challenges. We are programmed to want more than what we are given. We are so excitingly human because we think for ourselves and develop our own dreams and fears to go along with them. What separates one person from another in the end is which path they chose, and how they affected others along the way.
My fear is to stay stagnant. I fear decaying in my own filth, for lack of a more graceful phrase. In other words, I don't want to cultivate fear and live in that environment. I want to see the fear around me and step through it. I want to live a life worthy of bravery and kindness. I want to live a life worthy of who I want to be.
When I'm starting to feel too comfortable, I wake up at 5am and jump in a lake. When I think my art looks the same, I do something that I don't know how to do. When I feel myself becoming mean I immediately do something kind. When I look more favorably in the face of greed I immediately push it away for gratitude. We are so full of contradictions. Move forward or stay behind. But in the end, it is not how far ahead we got in life, it is how strongly and willingly we made the decision to move forward at all. We might get pushed back each time we try, but the choice is still our own, and it should be in favor of betterment.
We all have infinite potential built into us right now. We could make so many choices this very day that could change our lives and the lives of others. What decision will you make? How will you challenge yourself? How will you be a positive force in the lives of others? How will you promote passion?
The question is not how much, or how little, but simply how. Do not measure your decisions on the amount of change, but on the fact that you chose change. Find the strength to move forward, no matter how many times you get pushed back. Make the decision to accept change – it will happen whether you welcome it or not. And above all else, take the first step onto the tightrope. Your dream may be closer than you think.