10/31 July Challenge
10/31 July Challenge
Today the image was inspired by the incomparable ParkeHarrisons, Joel Robison, and my long-standing obsession with umbrellas. Ever since 2010 I've felt very connected to the umbrella as a symbol. I watched as most everyone in my life sought shelter from their own personal storms – life, all of it's hardships, fears, anxieties – they wanted so much to be protected from them. I wanted the opposite; not always because it was fun, but because I had this unending feeling in my stomach telling me to embrace what is uncomfortable.
I remember being in Paris and running along the water as a storm broke out. I was filled with joy like never before. I wanted to splash in every puddle, to be soaked, to feel it in my bones. I looked back and my friend was huddled by a tree yelling at me to stop and to keep dry. I had never felt so disconnected.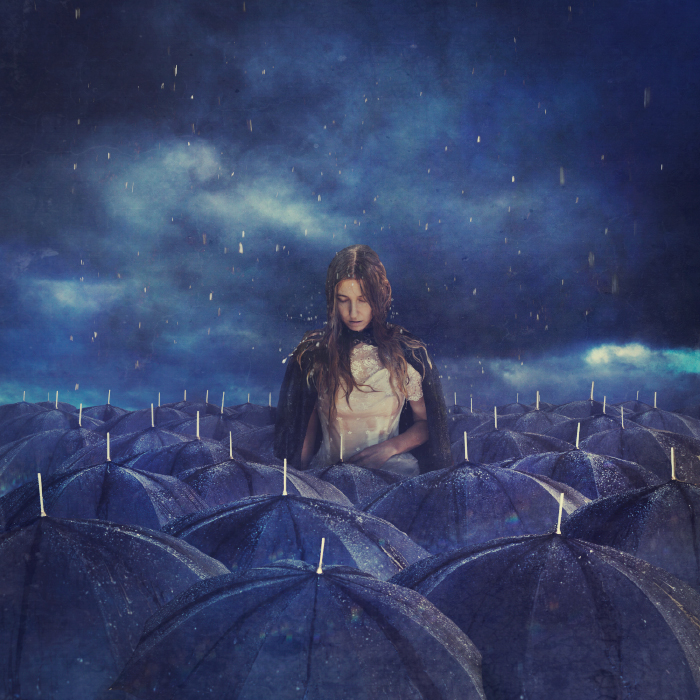 I remember being in Amsterdam with thunder bursting all around. I looked at my friend and asked her to go outside with me, and she did. We ran to the nearby docks and sat on their edge, feet in the water, rain pouring down, and we both still look back at that moment as one of the most important in our friendship.
Everyday that it rains here at home I can't help but run outside. Even my husband comes to get me if I haven't showed myself at the start, just to make sure I know. I love the rain, the storm clouds. When I give things a rating from 1-10, I simply say "clouds" if it is off-the-charts good. But not those white, fluffy clouds; I mean the evil storm clouds.
What metaphor exists that is better than the 
oncoming storm
, the rain that will soak us through? What metaphor is better than seeking protection, or embracing what makes us uncomfortable, for this life we are living?
When I make a decision, I ask myself if I am carrying an umbrella or not. If I am, I know I am playing it safe. I know I need to let go of what keeps me sheltered to fully immerse myself in the experience.
Today I noticed an umbrella in my car. I asked how long it has been there – 3 years, I was told. I hadn't noticed. I pulled it out and opened it up, and to my delight, every bar was bent and every clasp broken. I smiled, threw it in the trash, and created this image.
Come hell or high water, I'm in this life entirely.