2/31 July Challenge
2/31 July Challenge
Well Folks, it was quite a morning!
I woke up at 4am knowing I had an hour drive ahead of me to get to my favorite lake. I shot out the door, having packed the night before, and as I was driving I ran into a fire on the side of the road. That delayed me for a little while and I found myself chasing the sunrise, hoping that I wouldn't miss the good light. Thankful for me, the lake was behind a mountain and the sun wasn't up yet when I arrived. Not so thankful for me, the lake was almost entirely dried up. I had to switch to Plan B…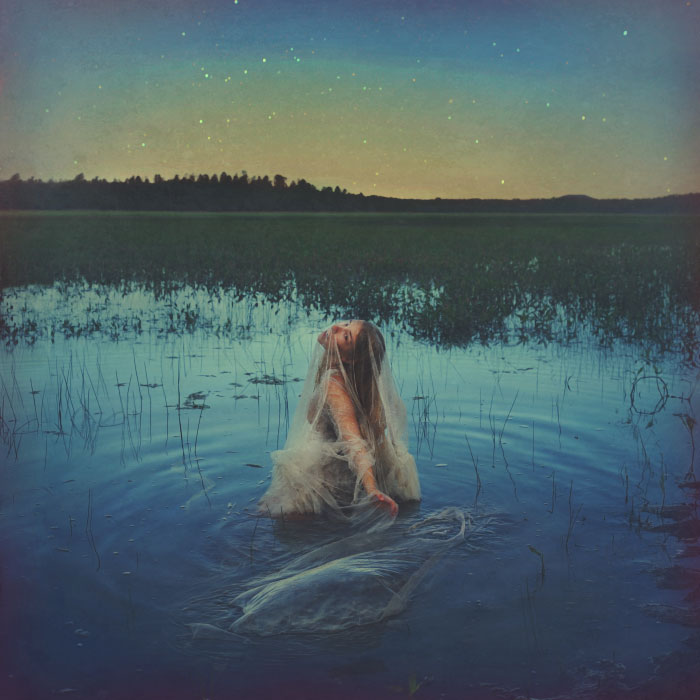 …Which was, essentially, to use what I had and to not complain about it. I was even slightly excited, since I wanted to challenge myself as to what I would do this month when things didn't go my way. The weather was chilly at 50 degrees Fahrenheit (hey, I live in the Southwest), but surprisingly the water was warm. Usually that lake is absolutely frigid with cold and ice, so I was counting my blessings.
In it's own way the lake was beautiful; reeds chased the sun everywhere, shooting out toward the sky. The mud was freezing so the water felt good on my toes and soon the stinging in my soles went away. I found myself giggling and smiling uncontrollably in that way that only happens when I am completely alone doing what I love.
I did the shoot first laying down with my feet to the camera. That didn't look so great so I switched my head around and tried that. Still something felt slightly off, so I shot a few sitting up. Those were the images I liked the most and I used one of the three I shot for the final image.
My lesson today, at every step of the way, was to see the beauty in the mistakes. Because I was delayed on the road I got to watch the magnificent sunrise. Because the lake was dried up it was warm. Because I was open to experimentation I got images that I really liked, instead of ones I would  only settle for.
I dared myself into into the water and saw the brightness and magic of what creating does; it opens your heart to every experience, big or small, and lets you see what wasn't there before. On the muddied edge of my lake I sat looking at the fireflies dance on top of the water, and everything was perfect.