Looking for the Poisoned Apple
Looking for the Poisoned Apple
I was leading a workshop in New Jersey last week, and whenever I teach I emphasize storytelling and how important that can be to an image. For me, the best images have story packed in. It might not be obvious, but it is always something that the viewer can take to interpret as they like. In this particular shot that I set up, it was all about the story. Forget fancy image compositing – that's not what I'm all about anyway. I love the story.
I wanted to combine several stories here to create a new one. The poisoned apple. Little Red Riding Hood. And the beautiful decaying house we had the fortune of photographing in. I took the idea of poisoned apples with the Little Red character and put them together. When I was setting up I brought my apples out and asked the attendees to take bites out of the apples, which they did, and I set them up so that the apples would come toward my camera.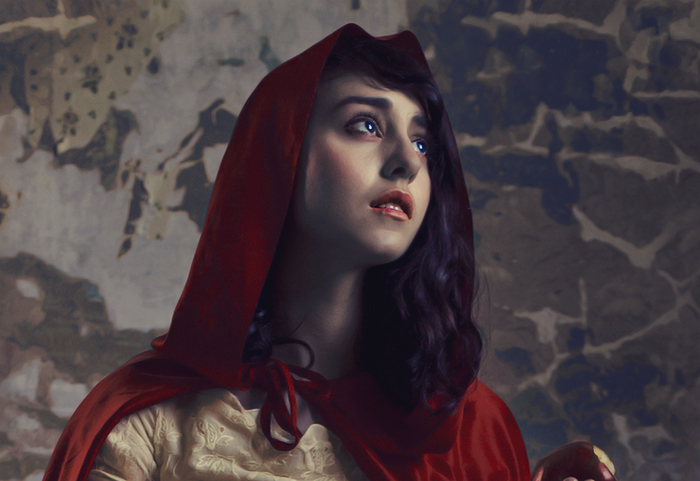 The light came most harshly from a window camera right, and there was another window, less direct, also to the left so I positioned the model (my beautiful sister-in-law Steph) to the more direct window. Later in post I closed in the walls around her so you couldn't see the edges of the windows in the shot (it was a very tight space).
With the concept I wanted there to be multiple apples eaten as though she is searching for the one with the poison. When one of the attendees asked what the story was, I gave it all: This girl had been traveling through the forest and got lost, and so she entered this house, falling apart and decayed, and she stayed for shelter from the pending storm. When she tried to leave the doors would not open and the windows would not break, and she found herself trapped. The only thing she had were apples, and so she tried each one hoping they were poison.
It was completely meant to be fun and have a story, one that was dark and beautiful to me. I love having fun with fairytales, and especially taking existing fairytales and twisting them a bit. Sometimes we all need a reminder that our craft does not need to be so serious all the time. I create images like this when I want to open up my mind and just have fun with my camera.