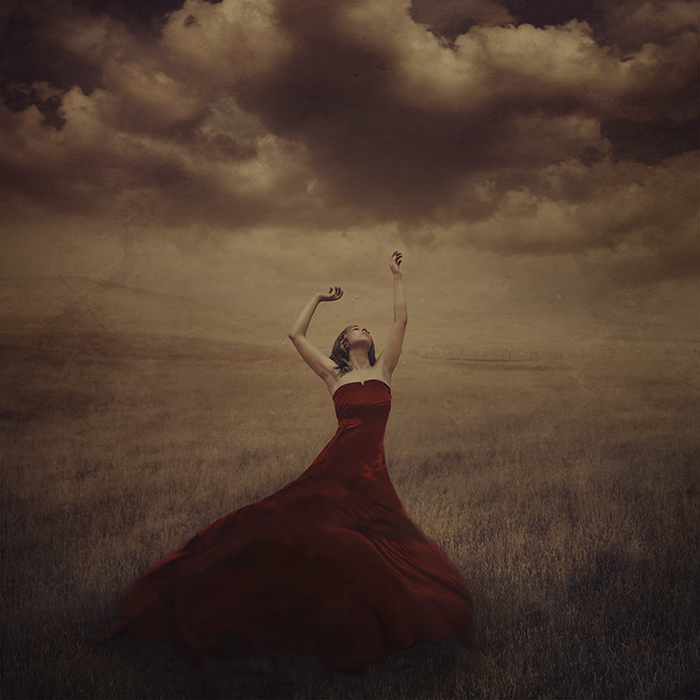 Promoting Passion Video Blog: Creating the Red Dress
Promoting Passion Video Blog: Creating the Red Dress
The other week I was teaching a class about how to build a wardrobe for $10 or less, both in what you see in front of you and in Photoshop. I did the class not fully expecting to use the picture. I light-heartedly asked the class if I should turn it into an underwater picture, and so I did. I darkened the background, added bubbles, and hot dog, if she didn't look underwater.
But this is my problem. I have a hard time committing to an image if I don't see the story behind it. Certainly I could make up a thousand stories for why this woman was underwater, but they didn't feel genuine to me. So I sat with the pictures, knowing I didn't have to use them for anything, but still they were in my mind.
And then, just yesterday, I had a vision of what the picture could look like. A powerful red dress, her reaching to the sky, and a sense of freedom and power emanating from her. It was calming to me as much as it felt chaotic, and that is the best way I can describe the scene.
Imagine you are in a very loud place. Maybe the wind is whipping around you deafeningly. Yet in that moment of chaos, you are calm. You block it out and you hear nothing but the soft music in your mind. That is how this picture makes me feel. And so, in the truest sense, there isn't a traditional story here that I had figured out. But sometimes that feeling is enough, and on rare occasions, the feeling translates to the viewer.
Whether it does or not, I hope that the video is enjoyable. Those who donated to the fundraiser I had going on will be receiving a 1-hour long editing tutorial for this image later this week.
What is your favorite feeling or emotion to portray in an image? Share with me the sentiment and even the picture if you've created it.