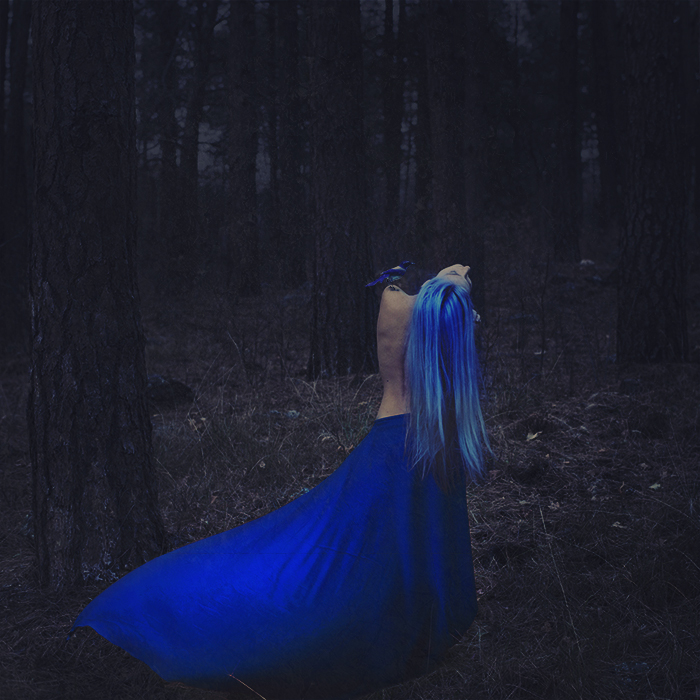 Promoting Passion Week 55: How Do You Create?
Promoting Passion Week 55: How Do You Create?
There is nothing that I love more than being in the forest creating a self-portrait, because that means I am spending time where I feel most alive and I get to see myself as a character filled with magic. I want so badly to be a woodland creature, spending my time among the animals, communing with them. Self-portraiture allows for that to be a reality.
When I create I'm often running back and forth between my spot where I'm posing and the camera, checking things like focus and angle and composition. I usually find myself flipping my hair about, or tensing my muscles – bringing the character to life. Sometimes my shooting process is so quick that I invent other things to do while I'm out – a different take on a shoot. Sometimes I collect sticks or leaves to take home with me, though they never make it far into the house.
Editing is always such a journey, and I get lost in it. Hours pass and I have no idea. I forget to look up from my screen until my cat meows for food and I realize darkness has fallen, and the only light comes from my bright screen. I imagine how if I could see myself from afar, my face would be lit blue from the blue fabric I'm editing together. Everything in life is so cinematic, and I draw inspiration from that to go wild with blue in this edit – take it to the extreme.
I love playing with extremes when I edit, often adding a lot of saturation and pulling back later to finesse it. Sometimes I wonder how I find the discipline to do anything but shoot and edit all day long, but when I finish my mind returns to normalcy and I feel fulfilled – transported – alive.
How do you create? I would love for you to share your process with me, either in general or in relation to a specific creation. If you write a comment here, share a blog post on the subject, or record a video response I will be sure to choose one to feature – just make sure you share a link with me in these comments.