Shooting With Instant Film
Shooting With Instant Film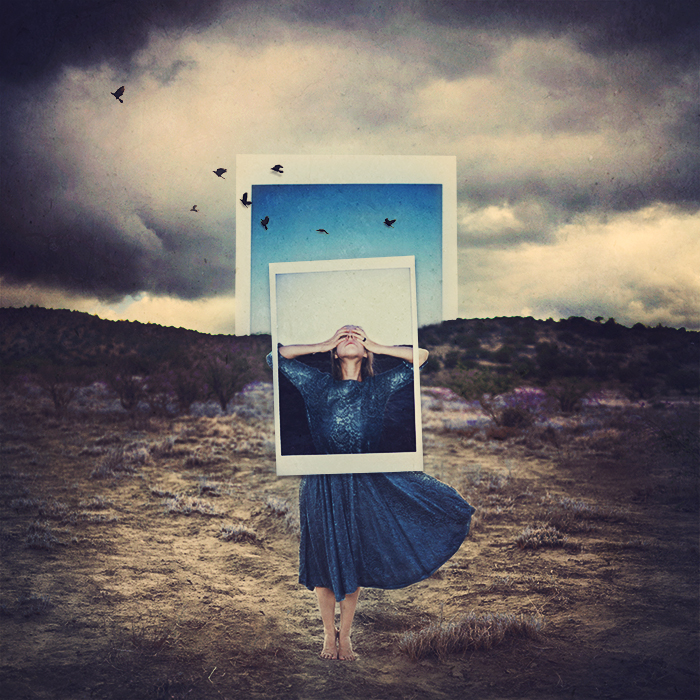 Revelation: The thing that surprises me the most about my art is how little I surprise myself.
Terrible revelation, I know. I'm in the process of fixing that. In a few weeks I'll be locking myself in a house to experimentally create the darkest art I can. And, a few days ago, I challenged myself to stop caring so much about what comes out of my photo shoots. I took my Instax Mini camera out and shot with instant film, experimenting, and trying to woo my past adventurous creative soul out to play.
It worked! I had an incredibly fun time creating with no boundaries, no expectations.
I went into the shoot with no plan, just a vague idea of what could be done with my little orange camera. After a couple of frames, I decided I might try some mixed media. Instead of something shot entirely on that little film camera, I would blend the film into my digital process.
The results? Eh, I'm not so sure about them. But that was never the point. The point was to do something out of my nature; to play without consequence or care for the final outcome. I went into Photoshop not knowing what to do, but attempting something nonetheless.
The result is an image that blends film with digital, that got me to think outside the box, and, apart from almost being eaten by fire ants, gave me an unforgettable evening in the desert.
Sometimes adventures aren't the big kind that take you around the world. Sometimes they happen in our homes or backyards, with the simplest tools. Adventure, for me, is a mindset. It is a willingness to try new things, no matter how small they seem.
An adventurous mindset can bring about enormous change – emotionally, in your art, in your life. I take active steps to see myself as an adventurer; to let myself believe that even these small things, like an instant film shoot in the desert, constitutes adventure. Because, at the end of the day, big adventures might not be within our means. But we can take small steps to broaden our horizons.
Not long ago someone asked me if I get nervous to try new things for the sake of keeping up professional appearances. I thought about it for a while, because at one point, my answer would have been yes. But now my attitude has changed entirely.
I want to dispel any myths surrounding professionalism in art. Yes, we should master our craft and know it intimately, but not at the sacrifice of innovation. I choose to change what professional looks like; instead of always trying to producing something perfect, I'd rather produce a hundred mediocre images in the pursuit of greatness.
What types of art would you mix to create mixed media?
Have you done something experimental this week?